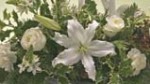 A few flowers added to an arrangement of greens can add a special touch for the holidays. Modern growing techniques and transportation have made a huge variety of flowers available but some are a much better value than others. Here are some tips on buying flowers for holiday arrangements.
In general, white and red flowers will cost more than other colors because of the high demand for these colors. If possible, consider another color scheme. Pink or yellow flowers look beautiful with greens and go with many holiday decorations; pink with burgundy, yellow with gold. In season flowers will cost less than exotics but you might be surprised at what flowers are "in season" until you remember that many of our flowers are imported from areas in warm climates or in the southern hemisphere where the seasons are reversed. Another factor to consider is vase life, which varies from 4-10+ days and many of the cheapest flowers have the longest vase life. The cost conscious buyer should count the number of stems in a bunch and compare; not all stores put the same number of stems in a bunch.
Here are my holiday picks:
Star of Bethlehem (Ornithogalum): This flower is not as familiar to most people as those listed below and is a unique addition to holiday arrangements. The white star-shaped flowers striped with green are borne on leafless stems and open one after another from bottom to top over a 2-3 week period. It can be used to add line, mass, or accent to an arrangement.

Lilies: Each stem of lily will seem expensive but consider that each stem has numerous buds which will open over time and last 4-5 days in flower. Thus the cost is not inhibitive and the impact of the flowers in an arrangement is huge. Clip off the flowers as they die and enjoy the new blooms as they open. Lilies come in a variety of colors including white, pink, yellow, orange and red, but the white ones are probably the most useable for Christmas arrangements. When buying lilies, notice that although the shape remains similar, the size varies considerably. In addition, some lily flowers face upward, while others face downward, so plan accordingly. And remember to cut off the anthers (pollen bearing structures) as soon as the flowers open because the pollen is oily and can cause serious stains on fabric.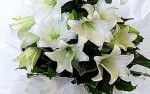 Chrysanthemums: Widely grown and available year round they are inexpensive and widely available. They have a vase life of 1-3 weeks depending on the variety, and will survive without water for a day if necessary. At Christmas time look for white snowflake mums and spider mums; both are fabulous with holiday greens.

Mini/spray carnations: Another inexpensive and widely available choice is mini carns. They come in reds, pinks, peach, white, and yellow plus bicolored ones and have a vase life of 1-2 weeks. Like many mums they can be without water for a day. Be sure to fluff the blossoms as you use them so that they will open fully and show the maximum color.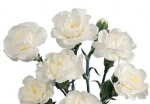 Alstroemeria (Peruvian lily): A staple of grocery stores and florists this long lasting (vase life up to 2 weeks) comes in various shades of pink, yellow, lavender, and white, all freckled or streaked with a contrasting color. The available colors are not as Christmas friendly as other flower types but if you can use them they are a great cut flower. Individual blossoms can be glued to greenery for a lovely effect and will last for at least a day. If they are closed when purchased they can be opened in a day or two by keeping them in bright light and warm water.

Roses: I don't recommend them for Christmas. After mid December the quality tends to decline, the vase life shortens and the price rises. But they tend to be cheap in the grocery stores so why not use them if you like them.