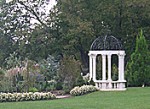 The hot days turned into chilly cold ones with night time temperatures in the 30s and 40s so many of the plants, like the Kwanzan cherry, slowed their development and we were able to enjoy them all week and beyond. The cooler weather came too late for some plants like the 'Thalia' daffodils and they have already been deadheaded and fertilized so they can focus on producing their bulbs for next year. Most plants are moving slowly towards bloom and offer ever changing images as they grow and unfold.
The hollies, like this oak leaf holly, is in full bloom. We have never had such a bloom before and look forward to an abundance of red berries in the fall.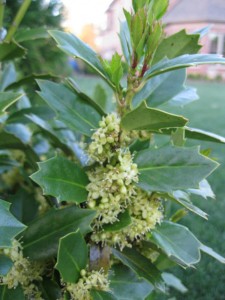 The white of this David viburnum is really set off by the dark green color of its leaves.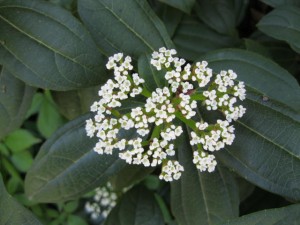 My favorite viburnum the Snowball viburnum because of its flowers that are chartreuse before they turn white. They look great on the bush but are a smash in a flower arrangement.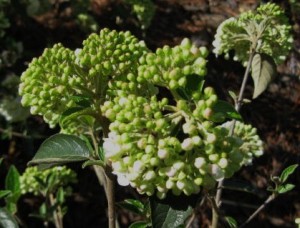 The loropetalum wasn't even showing color last week but burst forth at the beginning of this week.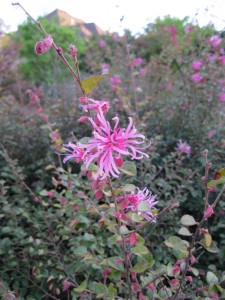 Cherry laurel is usually grown for its very handsome foliage but it has attractive flowers too.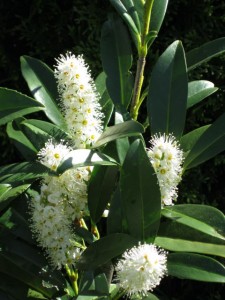 The Lady Banks roses are beginning to bloom; maybe by next week they will be full and glorious.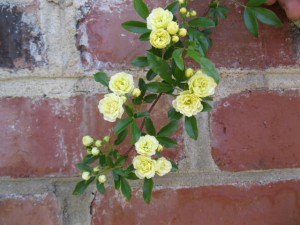 The Carolina Jasmine is also beginning to bloom. Two vines cover an entire arbor but only a few flowers are blooming. Their fragrance makes it a pleasure to walk by.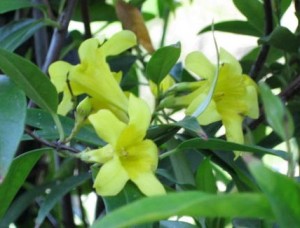 The American wisteria is budding up. It grows in its restrained and gentle manner while the Chinese wisteria nearby grows like a madman but has yet to produce a single bud.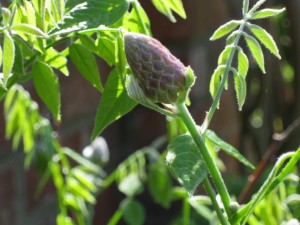 The multiflowering 'Hawera' with its miniature flowers is naturalizing slowly in an area where 'Carleton' and 'Rijnveld's Early Sensation' have failed to return. The 'Hawera' was mistakenly planted here and are lost among the trees and shrubs that form a band across the front of our property so I will have to change this next year.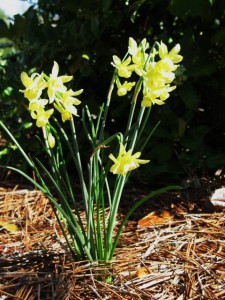 The vermilion-red species tulip Tulipa batalinii 'Red Gem' has a lot of punch but, alas, I have not planned well for companion plantings and it sits by a huge yucca with nothing else blooming or providing anything much of interest. This is another place I need to improve.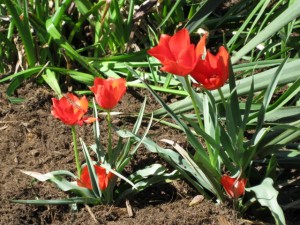 The one area that is full of interest is the secret garden.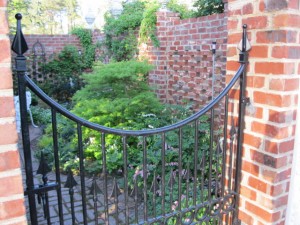 The Tiarella, white bleeding heart, and Sweet woodruff make a pretty threesome.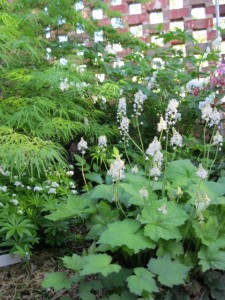 The pink bleeding hearts look lovely with the dark purple tinted Japanese Painted fern that will fade shortly to silvery green.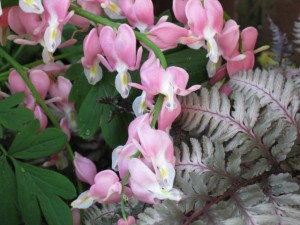 Sweet woodruff also enhances the pink azaleas in this garden.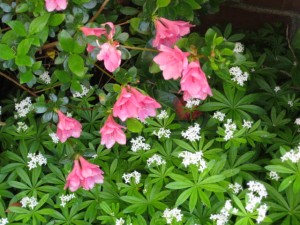 And the azaleas form a nice frame for the wild ginger. I bought one plant of wild ginger three years ago and it has formed this clump. I treasure it.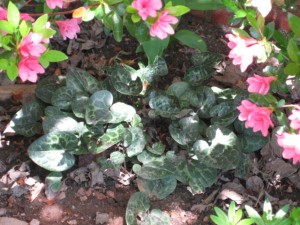 I put these stems of Red Osier dogwood in these outdoor containers at Christmas time, they froze in place, and I forgot about them until now when I noticed they had rooted and were leafing out.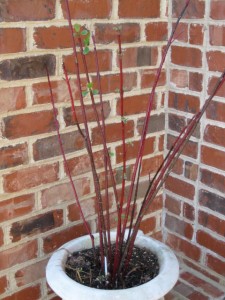 I am eagerly awaiting these guys .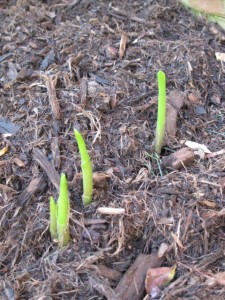 Did you recognize Lily of the Valley? That's what they are. I have had a hard time finding a good spot for them. This is certainly not where I would like them to be but they seem to like it and come up every year, so I just figure I have to adjust.