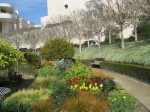 A visit to the Getty Center garden is always fun but is especially nice in March because the weather is cool and the garden is beginning to awaken. Many plants are blooming while others boast beautiful stems and foliage. The deciduous trees and shrubs have not leafed out yet so their skeletons add texture and interest to the whole scheme while allowing you to enjoy views of the garden that disappear with the appearance of leaves.
Approaching the rim of the garden the floating azalea maze in the center can be seen through the leafless trees.  The maze consists of three interlocking sets of circles, each planted with azaleas of a different color.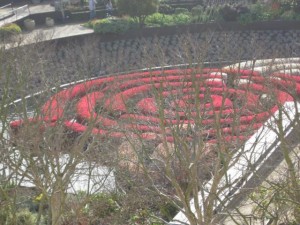 Grasses form a restful ground cover around the rim of the garden.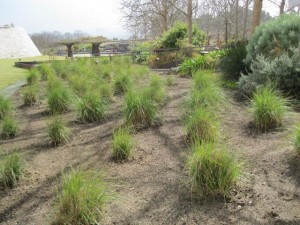 London plane trees 'Yarwood' line each side of the stream going from the top of the garden to the center. Swaths of deergrass adorns the upper banks of the garden.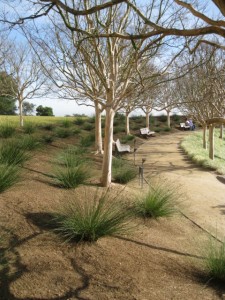 A terrace between the stream and the azalea maze features tall bowers supporting bougainvilleas.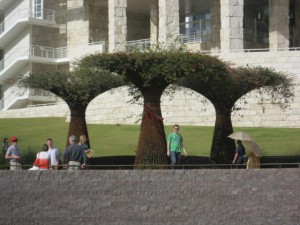 Each bowers is constructed of one inch rebar.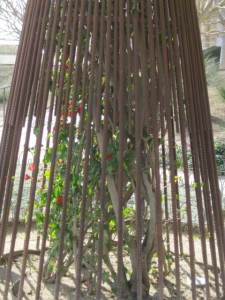 Leaves, stems, and flowers provide color through out the garden. Along the stream foliage and stems provide the main interest.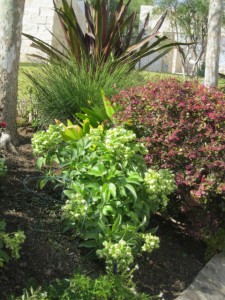 The purple leaves of loropetalum provide a beautiful background the small but intense pink flowers.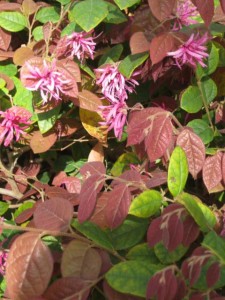 The green-white flowers of the blooming hellebore stand out against the purple leaved loropetalum.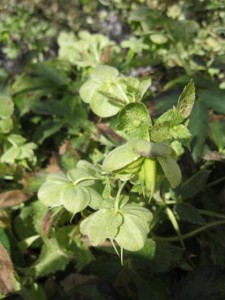 Some hellebores ported red flowers.
A planting of different kinds of esheveria fill a bed with color.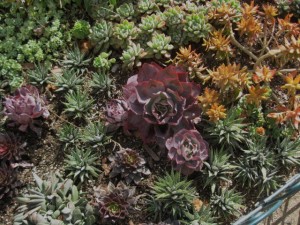 One was blooming.
But others provide color with their fleshy leaves and stems.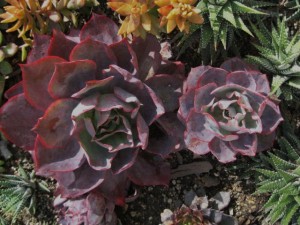 Sometimes a pink tinge can be seen in the pearly white color.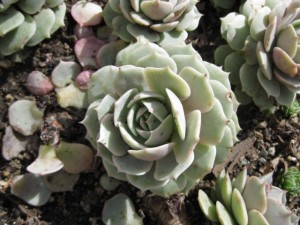 The thick fleshy leaves of variegated jade plant are often tinged with pink and complement the white flowers that appear in February.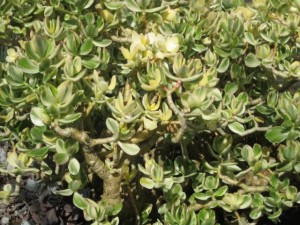 Variegated elephant bush has thick green leaves lined with creamy yellow-white and an attractive reddish brown stem.
The stems of the red osier dogwood are at their best in winter.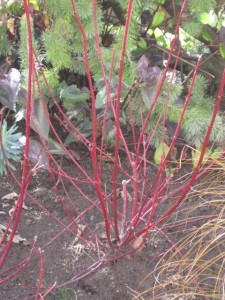 A mass of heucheras make a splash of red.
The bronzy red and yellow leaves of this geranium (Pelargonium) don't need their flowers toad color.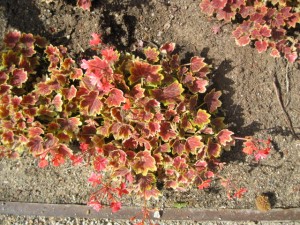 The round leaves of this kalanchoe give it the common name Paddle Plant. The leaves are medium green and edged with red during most of the year but become redder during the winter.
The deep purple leaves of oxalis complement the bright pink flowers;
and contrast well with gray foliage of a nearby plant.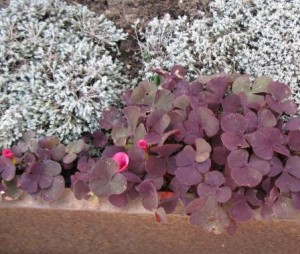 The deep bronze-green leaves of lesser celandine contrast with the bright yellow flowers.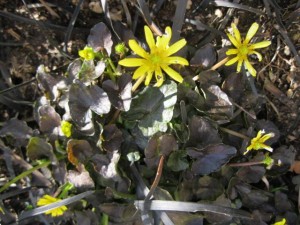 The foliage of a group of cannas make a colorful display.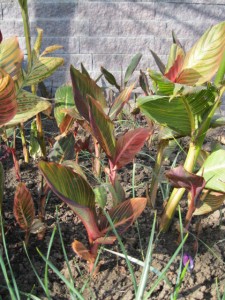 The red Asiatic poison lily has deep red foliage to complement its pink flowers.
Growing from a bulb, the leaves can be three feet long and form clumps up to 7' wide.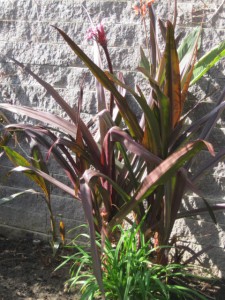 One of the prettiest combinations was composed of blue aster, and Pencil Tree and false heather.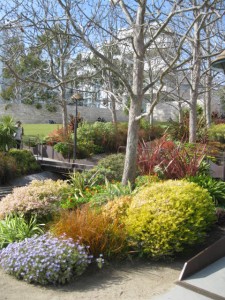 False heather is a small shrub that bears tiny flowers almost all year in warm climates.
The Pencil Tree is a euphorbia related to spurges. This one is grown for its yellow orange stems with deep orange tips.
The plants go into dormancy in summer and loose some of their color, but new growth brings it back fairly quickly.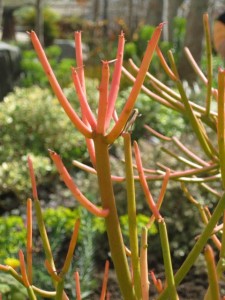 Other euphorbias looked quite different.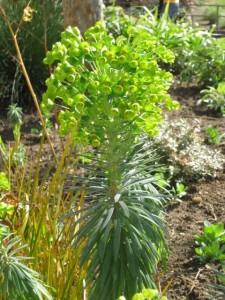 Variegated spurge has white margins on its leaves.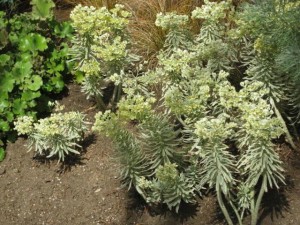 The foliage of this purple one greens up as it matures.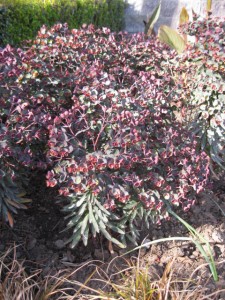 A trellis covered with white flowers caught my eye.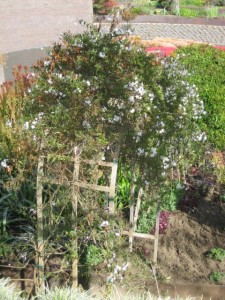 Potato vine, a native of Brazil, blooms year round in coastal areas. It is fast growing and easy to grow.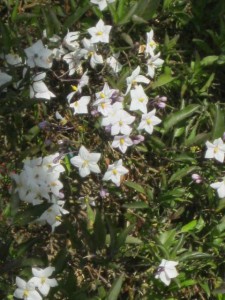 The rose growing on this umbrella shaped trellis were not blooming yet but they were beginning to leaf out. In the mean time, the flax plants give the area color with tall dominant leaves.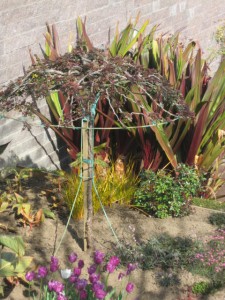 A dwarf pomgranate tree sported glossy golden green foliage and ornamental red fruits.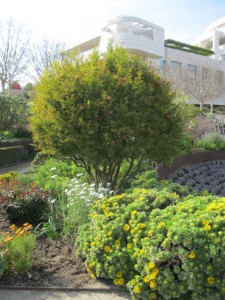 The red fruits persist into fall.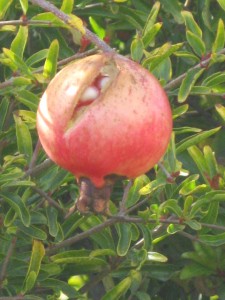 Golden 'angels' trumpet was covered with flowers.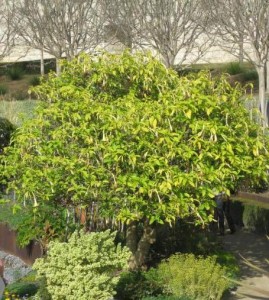 The flowers are borne from March until November and are fragrant in the evening.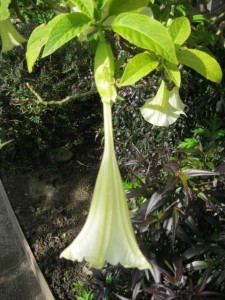 For unusual leaves and striking purple flowers you can't beat princess flower, also know as glory bush.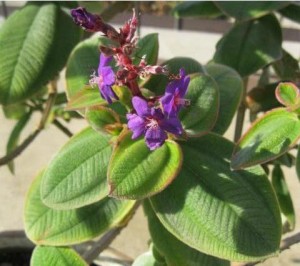 Lots of herbaceous perennials and herbs are blooming. Here we see crainsbill and lobelia 'Crystal Palace' in the background.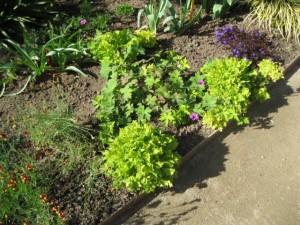 The garden has many different kinds of crainsbill. Here's a pink one;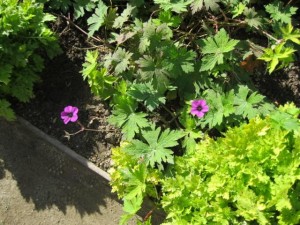 and a blue one.
A large cultivar of bugleweed has dark green leaves with a brownish purple tinge.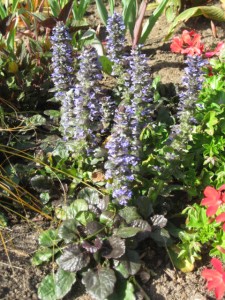 Corncockle is an annual with wiry stems that will weave through other plants.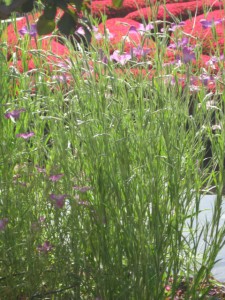 Both pink and white flowered varieties bloom in spring and summer.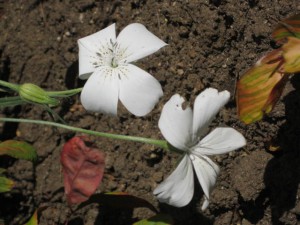 Flowering tobacco is a tender perennial that blooms nonstop. It reseeds and sends up sprouts from its roots so makes its presence year after year.
Sea holly looks like a thistle;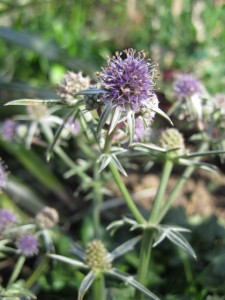 its' foliage is compact and attractive too.
Angelica is a bold plant with coarsely toothed leaves and large heads of tiny white flowers. A biennial, it freely reseeds.
Another biennial, cape forget-me-not, lends an intense, bright blue color to the garden.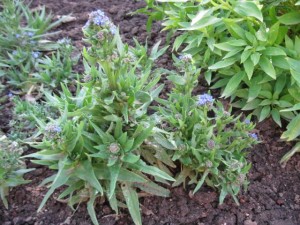 Flowers first appear in spring and continue through summer and sporadically into fall.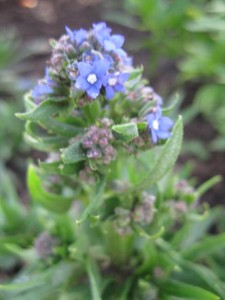 Sea pinks bear their clusters of pink flowers above tufts of grass like foliage.
Large clumps of Peruvian lilies produced by rhizomes begin flowering in spring and can last into fall.
The flowers make wonderful bouquets because they last so long in water.
A lovely lavender bears its purple flowers over gray green lacy leaves.
The show stopping 'Flamenco' linaria with its yellow and maroon flowers is grown in the garden bed as well as in containers.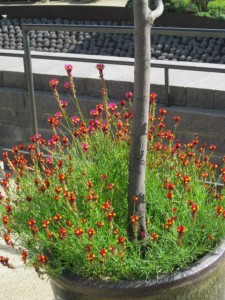 Almost as bright in color are the nasturtiums, one of the garden designer's favorite plants. I love the round leaves and would grow nasturtiums even if they lacked flowers.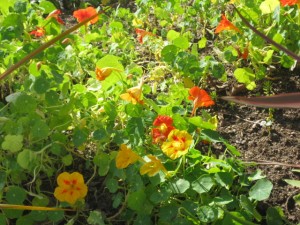 On the other hand, coral fountain has virtually no foliage. The plant sends our long, arching green stems that produce clusters of flowers in spring and summer.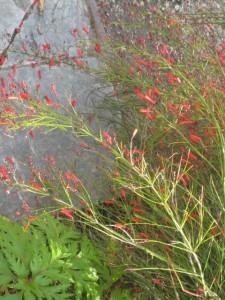 The scarlet tubular flowers are about 1 inch long and look like little firecrackers, giving the plant another common name, firecracker plant.
A south African native, sunshine daisy has fern-like yellow-green foliage.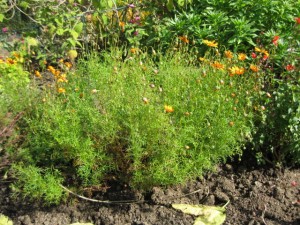 The bright orange daisy flowers on borne on slender stems from early summer to early fall if plants are started during cool weather.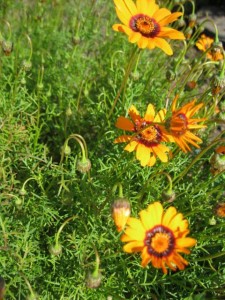 And of course California poppies can be found in the garden.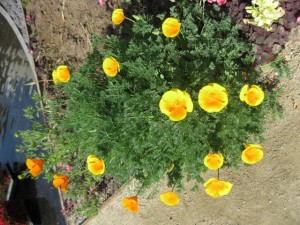 Their bright yellow flowers are a key accent color for the areas of gray and blue-gray foliage.
Small and large clumps of canary island daisies are found throughout the lower part of the garden. Their light silver-green leaves and rich yellow flowers packed into the foliage are attractive for most of the growing season.
No spring would be complete without tulips.
Another bulb, pink bugle lily, stands 2 feet high.
Some bulbs are yet to bloom and suggest promise for the future.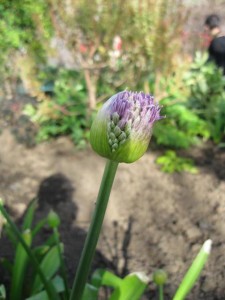 There are many more plants that are lending their colorful leaves, stems, and flowers to the magic of the garden but I was limited by my ability to identify them. Nothing is labeled. As much as I love the Getty garden, I must admit that am very frustrated by this lack. The planting is diverse and there are many interesting and beautiful plants to see but the resources are scanty. The book available in the Center bookstore, Plants in the Getty's Central Garden, shows a fraction of the plants that are actually in the garden so is marginally helpful. Since the Getty Center is so keen on education perhaps this situation will change.