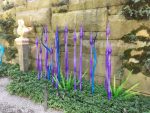 The works of American glass sculptor Dale Chihuly have been admired for many years and in the summer of 2018 an exhibition of Chihuly's works came to Biltmore in Asheville, North Carolina, for the first time. Known for their vibrant colors and organic shapes, the works were installed in the gardens as well as in the mansion and the conservatory. Fifteen works can be seen by gaining admissions to the grounds; the installment in the house requires a house admission ticket. An additional fee is required for the evening program when the works are illuminated.The following map shows the location of the works. The house sits on a hill above the gardens and I recommend that you start at the house and walk down to the conservatory, then take the free shuttle bus to Antler Hill Village where two more works are located.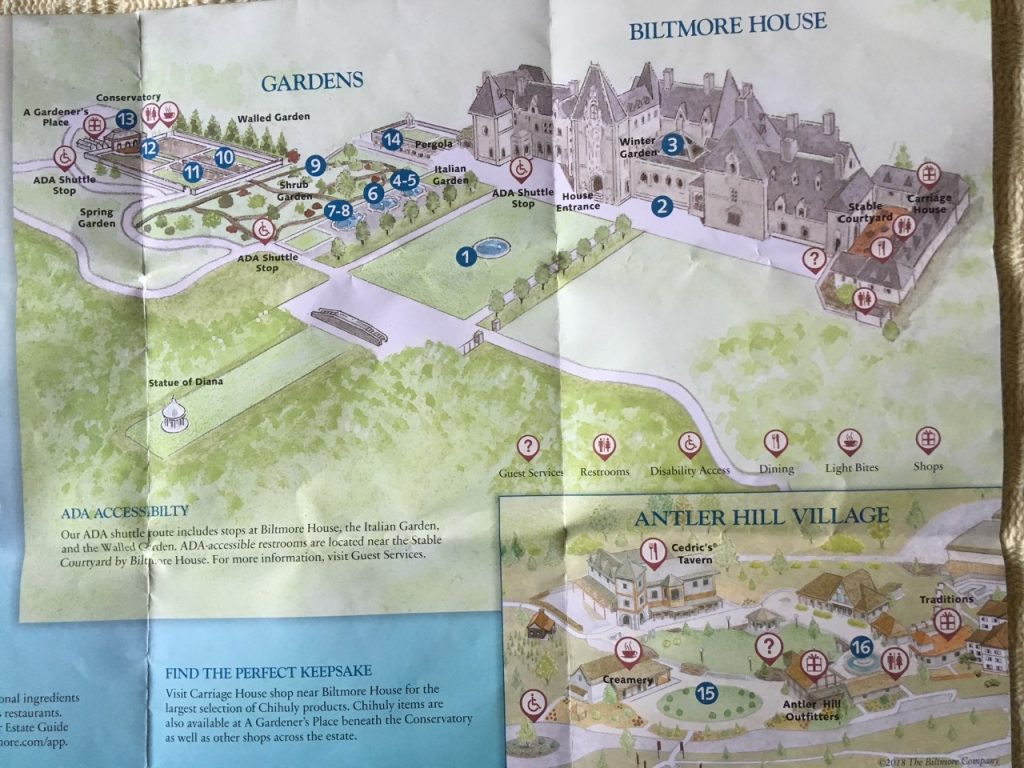 In the large parterre in front of the house is Sole d'Oro, created in 2017 (#1)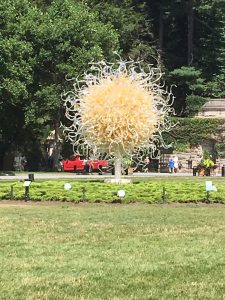 Nestled into the house is   Sky Blue and Cobalt Fiori, 2017 (#2)
Inside the house is Laguna Torcello II, 2018 (#30)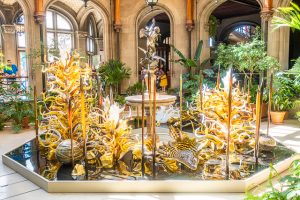 Five works in the Italian Garden can be viewed from above and then visited close-up.
Float boat, 2017 (#4)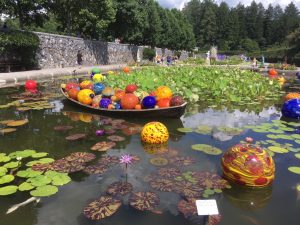 Ninja Floats, 2018 (#5)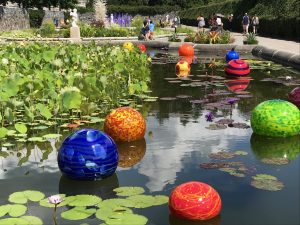 Palazzo Ducale Tower, 1996 (#6)
Fiori Boat, 2017 (#7)
and Neodymium Reeds with Fiori Verdi, 1014 (#8)
The pergola  (#14)features a very large installment, Pergola Garden Fiori, 2018, featuring many areas of very different colors from blue and violet to red, orange, green, and black.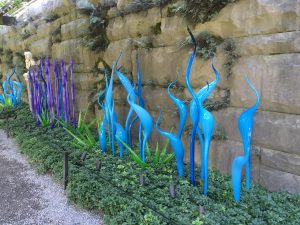 Red Reeds, 2017, consists of two groups near each other in the Shrub Garden.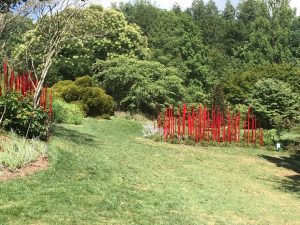 In the walled garden on either side of the walkway surrounded by large parterres are two complementary works:
Pai(#10)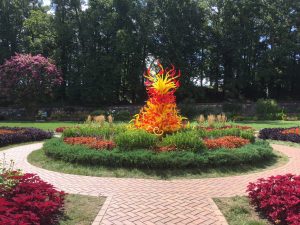 and, Electric Yellow and deep Coral Tower, 2017 (#11)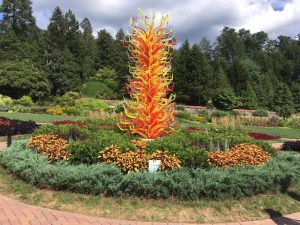 Just outside the Conservatory  in parterres is Cattails and Copper Birch Reeds, 2015 (#12)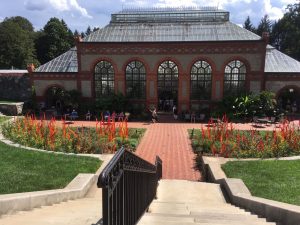 Inside the Conservatory are Burnished Amber, Citron, and Teal Chandeliers, 2017. (#13)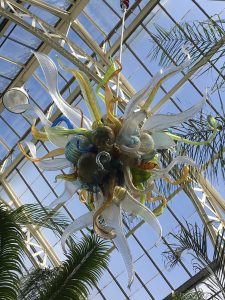 A shuttle bus outside the Conservatory takes visitors to Antelor Hill Village where two more works may be found:
Alabaster and Amber Spire Towers, 2017 (#15)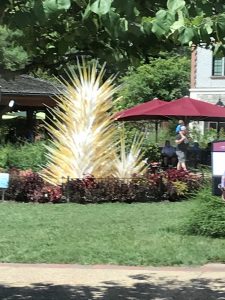 and, Turquoise and Erbium Fiori, 2017 (#16)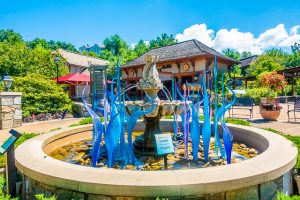 Truly a unique experience sto see so many spectacular works integrated into the beautiful gardens of Biltmore!