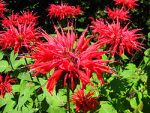 Grow beebalm and introduce children to wildlife, butterflies and American history.  Also known as oswego tea, this clump-forming herbaceous perennial is native to eastern North America from Maine to northern Georgia and west to Ontario and Minnesota where it grows in moist areas such as bottomlands, thickets. and stream banks. Native Americans followed by early settlers have used the plant to make a tea valued for both culinary and medicinal purposes including bee stings, skin infections, dental cavities, gingivitis, flatulence and urinary disorders.  Plants grow 2-4′ tall and have 4-sided stems bearing thin pointed ovate to lanceolate leaves that are 4-6″ long.  The leaves are dark green with reddish veins, have coarsely toothed margins and give off a minty fragrance when crushed.   Bright red tubular flowers  surrounded by reddish bracts are carried in globose terminal, whorled clusters 3-4″ across and composed of up to 30 flowers.  The flowers bloom  from mid- to late summer and are attractive hummingbirds, butterflies and bees.   Many cultivars are available that vary most significantly in color, vigor, and disease resistance.   An excellent choice for the border as well as for a bird, butterfly, wildlife,  native plant, or herb garden.
Type: Herbaceous perennial
Height: 2-4′
Bloom Color:   Bright red
Bloom Time: Mid to late summer
Light: Full sun to part shade
Soil: Average, medium moist to wet, well-drained;  plants should not dry out.
Hardiness: Zones 4-9
Photo Credit: Wikimedia