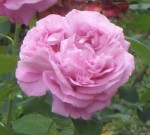 With bourbon, Portland, and china ancestry, hybrid perpetual vary considerably but share a few characteristics that make them special. As their name implies they are repeating, some more so than others. They also have very large fragrant flowers that were developed in response to the Victorian interest in rose competitions in the latter half of the 19th century. The large flowers were exhibited in English boxes and the competition for the most beautiful flower became fierce. As a result, breeding programs focused on the bloom and the appearance of the bush was neglected. The consequence was tall, upright, coarse, unattractive bushes. Flower color included red, pink, mauve, and white. By 1900 there were between 3,000 and 4,000 hybrid perpetual roses on the market but this number quickly diminished as the hybrid teas were developed by crossing hybrid pepetuals with tea roses.
 Flower Size: 3.5 to 5.5"
Petal Number: Full to very full
Flower Form: Cupped, flat to high centered; quartered; button eye
Flower Substance: Moderate to thin
Flowering: Repeat but second flowering is often sparse
Fragrance: Moderate to strong
Stem: Short flower stalks on arching stems; may profit from pegging; thorny to almost thornless
Size of Bush: 4-8'
Disease Resistance: Poor; susceptible to blackspot and mildew
Hardiness: Zone 5
Here are four hybrid perpetual that have good American Rose Society (ARS) ratings and can be found for sale on the internet:

'Reine des Violettes': huge bush that profits from pegging bears large purplish red flowers on thornless stems. ARS rating 8.2

'Baronne Prevost': Deep rich pink fragrant flowers over 4" across have 100 petals and are quartered around a button eye; bush is erect and up to 6' tall with prickly stems. ARS rating 8.5

'Paul Neyron': Rose pink flowers are 5.5" across and have 65-75 ruffled petals; 6' foot bushy has large matte green leaves. ARS rating 8.1

'Frau Karl Druschki': With its pointed buds this rose looks forward to hybrid teas; flowers are white, and 4.7" across with little or no fragrance; bush may be 7' tall with dark olive green leaves. ARS rating 8.0.