Have you ever noticed how many plant labels tell you that the plant needs 6-8 hours of sun? Many plants do have high light needs but many other beautiful plants love afternoon shade. You need to carefully evaluate your shade and plan accordingly. You have to make sure that they are getting adequate water (1" per week is normal); mulching will help retain moisture as well as provide nutrients.  Here are some beautiful plants that will bloom during the summer in a site with afternoon shade, or to turn it around, morning sun.
For height at the back of the border try Queen of the Prairie (Filipendula rubra 'Venusta") with its pink airy flowers. Hardy in zones 3-9, it grows over 5' tall.

Goatsbeard (Aruncus dioicus) with its large plume-like inflorescence of creamy white flowers has foliage that remains attractive all season. Growing to 4' it is hardy in zones 3-7.

You can't beat garden phlox 'Mt. Fuji' (Phlox paniculata) for the shear beauty of their outstanding flowers. Twelve to fifteen inch panicles arise on 3' stems. Hardy in zones 4-8.

There are many astilbes that do well in afternoon shade but most bloom in the spring. Astilbe taquetii 'Superba' is summer blooming. It is tall, growing up to 4' and have beautiful fern like foliage and lilac panicles of small flowers. It is hardy in zones 4-8.

Beebalm (Monarda didyma) offers unusual flowers in a variety of colors including ceres, scarlet, pink, violet-blue, purple, and creamy white. Growing to 3-4' tall they are attractive to hummingbirds, butterflies, and bees and are hardy in zones 4-9.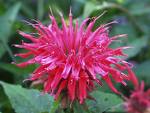 Hollyhock mallow 'Fastigiata'  (Malva  alcea) grows about 2' tall and carries rose-pink flowers. It is hardy in zones 4-8 and has a long bloom season. Dwarf forms are available too.

Lobelia, both Cardinal flower (Lobelia cardinalis) and Great Blue (Lobelia syphilitica), are good plants for middle of the border. Cardinal flower grows 2-4' tall and is hardy in zones 2-9.

Great Blue Lobelia grows 2-3' and is hardy in zones 4-8.

False dragonhead (Physostegia virginiana) also known as Obedient plant because of the way the flower can be turned on the stem and stay that way, grows up to 3' tall and is hardy in zones 2-9. The cultivar 'Vivid' is shorter and more compact so may be more useful in the shade garden.

Spiderwort (Tradescantia virginiana) grows up to 2' tall and comes with blue, purple, red, or white flowers. It is a trooper of a plant, very adaptable, and begins blooming in spring. It is hardy in zones 4-9.

Campanula carpatica "Blue Chip' is a very low growing powerhouse of blooms. It produces vivid blue bells over a mounded cushion of heart-shaped foliage. It multiples rapidly but is easy to keep in bounds, is deer resistant, and hardy in zones 3-8. This is a great plant for the front of the border.
There are many kinds of sedum and this is one that really stands out. 'Dragon's Blood' (Sedum spurium 'Dragon's Blood ) is a prostrate ground cover with red flowers and dark green leaves suffused with purplish bronze that turn red in the winter. It is hardy in zones 3-8.
Most lists of this kind include hostas but I am not doing so because I think they are grown more for their foliage than their flowers. That is not to say that their flowers are not lovely; they are and I include many of them in my shade garden. Just remember that blue green hosta like a lot of shade while yellow green hostas prefer more sun. This a generalization so check with your local nurseryman/women when purchasing a hosta.
There are many bright colored flowers that can bring color to a garden with afternoon shade.  Give some a try!
If you enjoyed this article you might also like: