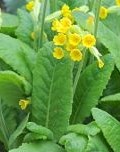 Cowslip (Primula veris) is a herbaceous perennial native to most of temperate Europe and western Asia. The spring blooming plant produces cluster of deep yellow flowers that are valued for both wine and vinegar. In the 1931 children's book "The Country Child" by English author Alison Uttley, the 9 year old farmer's daughter participates in the family's preparation of cowslip wine that is served in "little fluted glasses" with a biscuit and was considered "more precious than elderberry wine." My paternal grandmother, Helen S. Wright, included a recipe for cowslip wine her her 1909 book, Old Time Recipes for Home Made Wines. Photo Credit Wikipedia
In the words of my grandmother:
"To three gallons of water put seven pounds of sugar; stir it well together, and beat the whites of ten eggs very well, and mix with the liquor, and make it boil as fast as possible. Skim it well, and let it continue boiling ten hours; then strain it through a hair sieve, and set it a cooling, and when it is cold as wort should be, put a small quantity of yeast to it on a toast, or in a dish. Let it stand all night working; then bruise one-half peck of cowslips, put them into your vessel, and your liquor upon them, adding three ounces of syrup of lemons. Cut a turf of grass and lay on the bung; let it stand a fortnight, and then bottle it. Put your tap into your vessel before you put your wine in, that you may not shake it."
To buy Old Time Recipes for Home Made Wines by Helen S. Wright from Amazon.com Click Here.