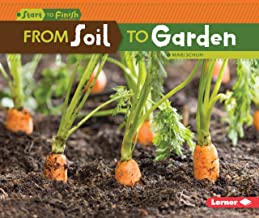 In her book, From soil to Garden, Mari Schuh, introduces young readers to the steps necessary to create a garden. She begins by discussing the basic characteristics of a suitable site, and goes on to explain the importance of a soil test and how to prepare the soil. She continues with attention to buying the seeds or plants, planting, watering, mulching, weeding, and harvesting the garden. Two full pages are devoted to each step in the gardening process and includes a full page color photograph illustrating the text.
Written for children 5-9 years old, the book sets out the gardening process in a logical, step by step way that fosters sequential thinking skills. It uses large and small fonts in the text to appeal to readers of different ages and abilities, and uses green boldface to emphasize technical words such as soaker hoses and nutrients, with definitions in a glossary at the end of the book. From Soil to Garden is part of a series called "Start to Finish" that includes titles such as From Egg to Honeybee, Garbage to Compost, and From River to Raindrop.
To buy From Soil to Garden from Amazon, click here.