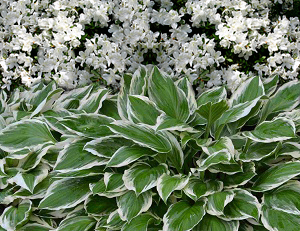 Make spring time special with the combination featuring a white azalea and a hosta with a white edge. This hosta is one of the earliest to emerge so will be showing off its emerald green leaves with margins that echo the color of the azalea. After the azalea has finished blooming the hosta continues into fall producing pale purple flowers on arching scapes in mid-summer. The azalea leaves turn yellow in fall and persist through the winter while the hosta dies back for winter dormancy. Both plants enjoy part shade and moist, well-drained soil.

Azalea (Rhododendron) 'Delaware Valley White'
'Delaware Valley White' azalea has been grown for at least 300 years but its heritage in unknown. It forms wide rounded clumps that are covered with bright white flowers in early mid-season. The tubular flowers are about 2½ inches across and are borne singly. An evergreen, 'Delaware Valley White' , has oval leaves that turn yellow for winter.
Bloom Time:
Size:
Hardiness:

Hosta undulata 'Albomarginata'

With wavy white margins this classic hosta provides a bright spot in a shade garden. The leaves are 6-8" long, 3" wide and have centers with two tones of green. They may lose their white margins in the heat of the summer but will return to their original look when they emerge in the spring to complement the white blooming azaleas. The pale purple flowers add a touch of color in mid-summer.
Bloom Time:
Size:
12" H x 16" W (flower scapes 36" H)
Hardiness: