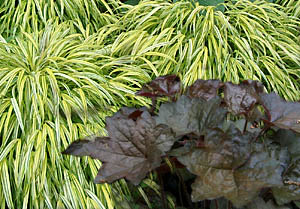 These two herbaceous perennials will provide color in a shady spot all season long. The chocolate purple color of the wide coarse leaves of coral bells contrasts nicely with the bright yellow green of hakone grass's delicate blades. Further interest is added by the difference in texture between the broad coarse leaves of coral bells 'Palace Purple' and the slender leaves of hakone grass.   Plants grow well together in humusy, medium moist soil and part shade.

Coral bells (Heuchera micrantha var. diversifolia) 'Palace Purple'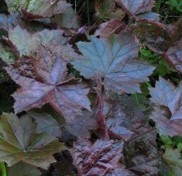 This old favorite forms attractive mounds of palmately lobed leaves that resemble the leaves of maple trees but have a rich brown purple color. Plants vary greatly in their ability to hold on to the purple color as the heat of summer arrives so pick your plants carefully. Even if the leaves go a bit green the purple color will return when temperatures go down. Loose clusters of pinkish white flowers appear on wiry stems in early summer well above the foliage. Some gardeners remove them because they feel they detract from the appearance of the plant, but others like the lacy effect dancing above the dark clump of leaves.
Bloom Time: Early summer
Size:1-2′ H x 1-1.5′ W
Hardiness: Zones 4-9

Variegated Hakone Grass (Hakonechloa macra) 'Aureola'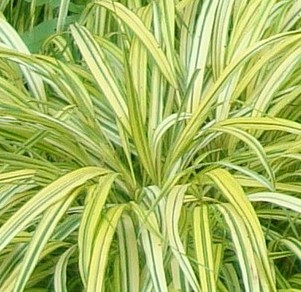 A native of Japan where it grows in moist mountains, this perennial grass provide not only color but movement as gentle breezes blow. Its delicate leaves arch gracefully and have longitudinal soft yellow and green stripes. Grown in more shade, the yellow stripe turns lime green. In late summer to fall, inconspicuous yellow-green flowers are produced in spiklets. The plant is slow growing but ultimately may form large clumps.
Bloom Time: Late summer to fall
Size: 12-18" H x 18" W
Hardiness: Zones 7-9 (6 with protection)