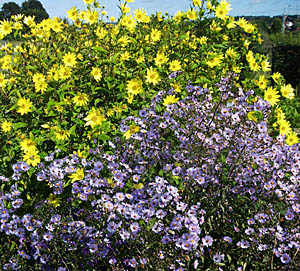 This tall combination is a colorful addition to the back of a perennial border. Blooming in late summer to early fall, Michealmas Daisy 'Calliope' and perennial sunflower 'Lemon Queen offer an abundance of lilac-blue and yellow flowers, respectively. The form and size of the flower heads are similar and contrast is provided by the colors with sunflower 'Lemon Queen' echoing the yellow center of Michalemas daisy 'Calliope'. Further interest is supplied by the black stems of Michaelmas daisy 'Calliope' set off by dark glossy foliage. Both plants are attractive to butterflies. Grow in full sun and medium moist, well-drained soil.

cheap prednisone Michaelmas Daisy (Aster laevis) 'Calliope'

An old cultivar from 19th century England, Michalmas daisy 'Calliope' has dark green leaves that are especially attractive with the profusion of light lavender-blue flowers. The plant slowly forms tall narrow clumps but can be can be pinched back in early summer to control the height and reduce the need for staking.  Flowers are good for cutting.
Bloom Time: Late summer to early fall
Size: 4-6' H x 18-25" W
Hardiness: Zones 4-9

http://hometownheroesrun.com/lib/basic-methods-in-transfer-problems Perennial Sunflower (Helianthus) 'Lemon Queen'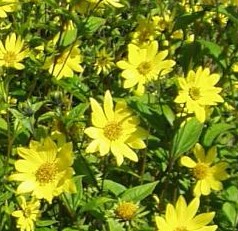 This busy perennial sunflower is fast growing and provides masses of soft yellow flowers two inches across for six to eight weeks. Plants are highly branched and the coarse leaves are rough and three to five inches long. Although it grows best in moist soil it tolerates some drought. Plants can be pinched back in early summer to control size.
Bloom Time: Late summer to early fall
Size: 6-8' H x 4-6' W
Hardiness: Zone 4-9.