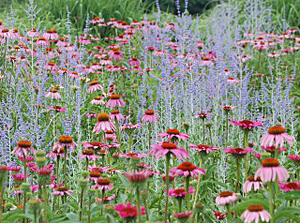 This long lasting combination begins in summer when purple coneflower opens its daisy-like pink flowers. A short time later Russian sage's gray stems produce small light blue flowers producing a blue cloud in the garden. The two plants continue blooming through most of the summer with Russian sage lasting into fall. The contrasting flower size and shape as well as the difference in texture adds to the appeal of this lovely combination. Both plants grow well in full sun, moderately moist well-drained soil and can tolerate some drought.

Purple Coneflower (Echinacea purpurea)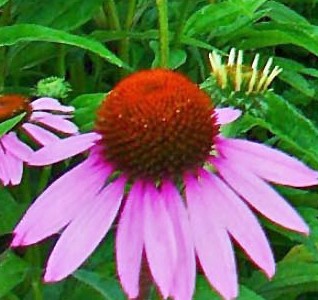 This herbaceous perennial is native to eastern US where it is found growing in meadows, praires, and open woods. The flowerheads are 1.5-3 inches across and have drooping ray flowers arranged around a dome of brown disc flowers that have a bronze tint. The dark green leaves are four to eight inches long and have short stiff hairs. Cultivars such as 'Magnus' and 'Crimson Star' have petals that droop less than the species.
Bloom Time: Early to late summer
Size: 2-5' H x 1.5-2' W
Hardiness: Zones 3-8

Russian Sage (Pervoskia atriplicifolia)

One of the best fillers for the perennial garden, Russian sage was the 1995 Perennial Plant of the Year. It is a woody-based perennial with a loose open habit and stiff gray stems that bear small gray-green aromatic leaves. The small light blue flowers are tubular and have two lips. They are borne in long upright panicles that create a light airy look for up the fifteen weeks.
Bloom Time: Mid-Summer into fall
Size: 3-5' H x 2-4' W
Zones: 5-9