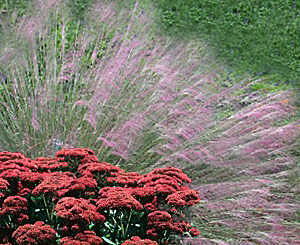 These two perennials provide long season interest in the border. Sedum 'Autumn Joy' emerges from the ground in blue-green mounds. As summer approaches it produces masses of tiny green buds in large heads that slowly open to pink and then mature to brick red in late summer, turning brown in the fall. Meanwhile purple muhly grass forms an upright fine textured mound of stiff leaves during the late spring and summer but then bursts into bloom in late summer with clouds of delicate pink-purple flowers. The thick heavy coarse leaves and large flowerheads of sedum 'Autumn Joy' contrast with the finely textured purple muhly grass. The combo is an awesome sight. Both plants attract butterflies and do best in full sun and medium moist, well-drained soil, although they tolerate less.
Sedum 'Autumn Joy'

Providing garden interest all season long, Sedum 'Autumn Joy' is one of the most valuable plants you can have in a perennial garden. The flowers are borne in flat flowerheads three to six inches across on dense upright plants with succulent stems and leaves. Not only does 'Autumn Joy' look good from early spring into fall and winter, it is easy to grow, and is drought and heat tolerant once established.
Bloom Time: Summer to fall
Size: 18-24" H x 18-24" W
Hardiness: Zones 3-9
Purple Muhly Grass (Muhlenbergia capillaris)

Purple muhly grass is a native of the eastern half of the United States where it is found in prairies, pine barrens, and open woodlands as well as along roadsides. It is a perennial warm weather grass that forms non spreading clumps of dark green leaves with very showy late-season flowers. Plants tolerate pollution, salt, poor soil, heat, humidity, drought, and flooding once established.
Bloom Time: Late summer into fall
Size: 2-3' H x 2-3' W
Zones 5-9