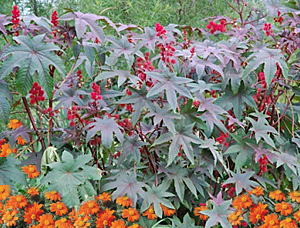 Either one of these annuals are exceptional plants in the garden but when used together they can are spectacular. The caster bean grows quickly into a tall shrub and forms a gorgeous burgundy backdrop for both its own pinkish-red flowers or the bright orange flowers of the Mexican sunflower. While the Mexican sunflower keeps pumping out its vivid blossoms through the fall, the caster bean produces bright red spiny fruit to continue the eye-popping color combination until frost. Use in a sunny spot in fertile, medium-moist, well-drained soil.
Castor Bean (Ricinus communis) 'Carmencita'

Probably the best of the bronze-leaf castor beans, 'Carmencita' is 6-8" tall, well, branched, and has dark bronze-red foliage and bright red female flowers. Like all castor bean plants, all parts of the plant especially the seeds are highly toxic so the plants should not be grown where children are likely to have access to them. In zones 9-11 caster bean grows as a perennial and may get even taller. Although it prefers full sun, castor beans tolerate some shade (but Mexican sunflower does not).
Bloom Time:
Size:
Hardiness:
Zones 9-11; elsewhere grown as an annual
Mexican Sunflower (Tithonia rotundifolia) 'Fiesta del Sol'
'Fiesta del Sol' is the first dwarf Mexican sunflower and thrives on heat and humidity. The plant is compact and the flowers are 2-3" across. Plants are sometimes slow to flower but once they get going they produce an abundance of blooms. If taller plants are desired try the cultivars 'Torch' ( 4-6' tall ) or the very popular "Goldfinger (4-5').
Bloom Time:
Size:
Hardiness: