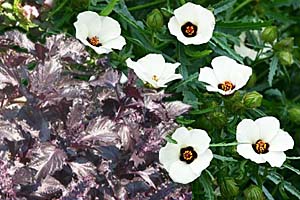 A lovely echo is set up in this combination between the purple eyes of Hibiscus trionum and the purple leaves of the basil. The effect is ephemeral, however, because the hibiscus leaves open only for a few hours on sunny days. This flowering habit is compensated, however, by a very long bloom time. The combination is also made difficult by the fact that the basil may lose its color. The echo is stunning when achieved, however, and well worth the trouble. Although purple basil that is grown for its foliage produces spikes of small lavender flowers late in the season. If you want to use the leaves for culinary purposes, remove the flower spikes as soon as they begin to form, otherwise enjoy the flower spikes as they add another dimension to the effect. Both plants grow well in full sun, and moderately moist, well-drained soil.

Flower of an Hour (Hibiscus trionum)

A native of Europe, this annual or short-lived perennial has naturalized in the United states and is now found growing in waste areas such as roadsides and open fields where it can become weedy. The plant is easily grown from seed and quickly forms a compact mound. The white to light yellow flowers are up to two inches across, borne singly and feature a dark purple eye accented with bright gold anthers. Although the flowers only last a few hours, they are produced over a long bloom time. The dark green leaves are up to three inches long and are deeply lobed.
Bloom Time: Summer into fall
Size: 18-24' H x 18-24" W
Hardiness: Annual

Purple Basil (Ocimum basilicum purpurescens)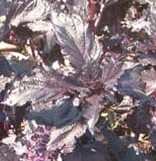 Purple basil is a tender annual that has a problem with color. Many times the seedlings will come up green and you may even think the seed company had a mix up. There are several cultivars so try including 'Red Rubin', 'Dark Opal', 'Osmin', and 'Purple Ruffles", but they all may have the problem which might be related to amount of sun and/or temperature.
Bloom Time: Mid-to late summer
Size: 12-24" H x 12" W
Hardiness: Annual (frost tender)