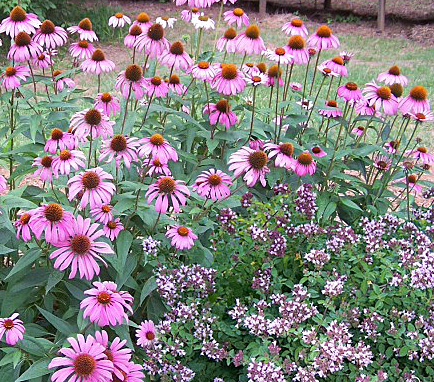 Take a popular garden plant like purple coneflower 'Magnus' and combine it with a lesser known plant like ornamental oregano and you have a unique combination. These two herbaceous perennials put on a late summer show together in the border and the ornamental oregano continues into fall. Both plants attract monarch and painted lady butterflies . They are easily grown, long blooming, and do well in full sun and average, well-drained soil. The only maintenance they require is cutting back in early spring.

can u buy neurontin online Purple Coneflower (Echinacea purpurea) 'Magnus'
'Magnus' is a large flowered cultivar of a coneflower native to central United States Each flowerhead is up to three inches across and consists of rose colored petals around brown disc flowers tinted with bronze. The ray flowers do not droop as much as those of the species so the flowers are more daisy-like. 'Magnus' is an outstanding garden plant and is widely available.
Bloom Time occidentally : Mid to late summer
Size: 30-26' H x 12-18" W
Hardiness: Zones 3-8

Ornamental Oregano (Origanum x) 'Rotkugel'

This stoloniferous perennial forms mats of green foliage covered by an abundance of loose clusters of flowers. Each flower has pink petals and a purple calyx and is showy for a long bloom time. Plants are semi-evergreen and have attractive ovate leaves with a flush of purple.
Bloom Time: Mid summer into fall
Size: 15" H x 18" W
Hardiness: Zones 5-9