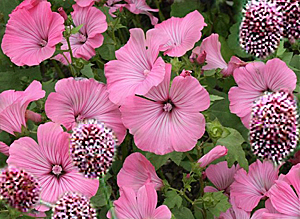 This winning combination of pink and purple is a beautiful addition to the summer border. Soft mounds of large pink flowers cover the plants of the 'Silver Cup' mallow over a long bloom time and are punctuated by the rosy-purple flower heads of drumstick allium as they add a vertical note and pick up the color of the veining in the flowers of 'Silver Cup'. Contrast is provided by the texture, size and shape of the flowers. If you can bear cutting them the flowers of both plants are excellent for the vase. Plant in sunny location with well-drained soil.

Mallow (Lavertera trimestris) 'Silver Cup'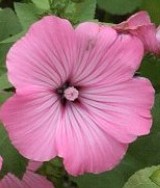 This medium sized annual is well branched and produces an abundance of showy flowers. Each flower is four inches wide and iridescent pink with darker pink veining. The mid-green foliage is fuzzy and remains attractive all season. Deadhead to keep the flowers coming. Mallows are native to the Mediterranean and do best where nights are cool, days are warm, and the climate is dry. 'Silver Cup' was awarded the RHS Award of Garden Merit.
Bloom Time: Early summer
Size: 24"H x 18"
Hardiness: Annual

Drumstick Allium (Allium sphaerocephalum)

A native of Europe, the Caucusus, Iran and North Africa, this hardy clump-forming perennial has been a garden favorite for many years. The egg-shaped flower heads are one inch wide and are borne on tall scapes up to 36" high. Light green when they emerge, the flower heads slowly turn rosy- purple. The gray-green leaves are grass-like and have an onion smell when crushed or bruised.
Bloom Time: Summer
Size: 20-26" H x 12" W
Hardiness: Zones 4-8