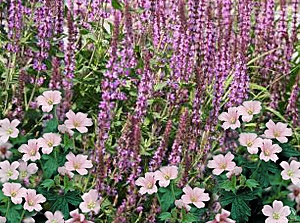 Rosy purple color is the theme for this long-blooming combination. The violet red of 'Amethyst' is echoed by the soft pink of 'Bressingham Delight' while contrast is provided by the differences in texture and shape. The spikes of 'Amethyst' provides a vertical element that is very different from the round form and flowers of 'Bressingham Delight'. Further contrast is provided by the fuzzy leaves and fine textured flowers of 'Amethyst' and the smooth, silky flowers of cranesbill. Both plants do well with full sun and moist, well-drained soil.

Iwo Meadow Sage (Salvia nemorosa) 'Amethyst'
'Amethyst' is a bushy upright perennial that slowly spreads to form attractive clumps. The fuzzy medium green leaves are arrow-shaped and aromatic. Small violet red flowers are produced on 8" spikes atop square stems for a long bloom time beginning in June. In mid-summer cut back the plants to encourage fall bloom.
Bloom Time:
June to August with repeat if deadheaded
Size:
Hardiness:

buy Pregabalin online australia Cranesbill (Geranium x oxonlanum) 'Bressingham Delight'

Growing wider than it is tall, 'Bressingham Delight' is a compact, clump forming perennial that thrives in heat and humidity. It has simple pink flowers beginning in spring and dark green, deeply lobed, round leaves. Plants should be sheared to the ground after the initial flush of blooms to tidy up appearances and encourage a second bloom.
Bloom Time:
Size:
Hardiness: