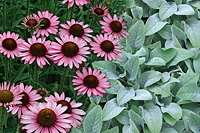 The traditional tall coneflower has a lot to offer but have you ever wished that it came in a smaller form? If so, take a look at this dwarf coneflower, 'Pixie Meadowbrite' bred and introduced by the Chicago Botanic Garden. Growing less than two feet high it can be used at the front of the garden or in small gardens where other coneflowers are too large. This provides the potential for many new combinations such as the one shown here with 'Big Ear' lamb's ear. The large fuzzy silvery leaves of 'Big Ears' provide an attractive accompaniment for the round, pink daisy-like flowers of 'Pixie Meadowbrite' (contrasting in both texture and shape.) 'Pixie Meadowbrite' provides masses of color all summer from June until August while lamb's ear is attractive from spring until fall (unless grown in a humid area where it may melt out in late summer and revive in the fall). Both plants grow well in full sun and moderately moist to dry, well-drained soil.
Dwarf Coneflower (Echinacea) 'Pixie Meadowbrite'

This dwarf perennial gives you all the assets of the traditional coneflower without the height. If the plants are allowed to go to seed they may attract goldfinches to the garden in the fall. Butterflies love them too. The generic name, Echinacea, comes from the Greek word echinos which means hedgehog, and refers to the appearance of the center disc of the flower.
Bloom Time: Summer
Size: 18-20' H x 20-24" W
Hardiness: Zones 3-9
Lamb's Ear (Stachys byzantina) 'Big Ears' (aka 'Helene von Stein')

Although several varieties of lamb's ear would work well in this combination 'Big Ears' is especially desirable because of large leaves that can be up to 8" long. 'Big Ears' sometimes produces flower stalks in spring with small purple flowers but these are generally not considered attractive. A perennial, lamb's ear is evergreen in warm climates, and spreads vigorously in fertile soil. In hot humid climates take care to water in the morning so that the foliage can dry by evening when fungus can set in.
Bloom Time: Spring
Size: 6-12" H x 12-24" W
Hardiness: Zones 4-8