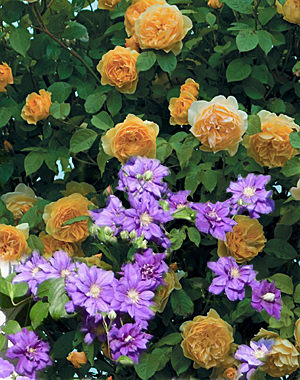 'Graham Thomas' is an exceptional rose with intense gold colored flowers that fade to lemon yellow. The plant blooms in flushes all summer and makes a striking combination with the purple-blue flowers of Clematis 'Francizka Maria' a new cultivar that is known for its long bloom time. Plant in moist but well-drained soil in full sun with the roots of the clematis in the shade of the rose.
Rose 'Graham Thomas'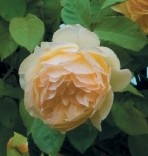 The large flowers of this David Austin English rose are cupped-shaped and very fragrant. They have up to 35 petals, and are borne singly or in clusters of three to nine. The leaves are large and medium to pale green. In warm climates the plants can be very tall (up to 13') but make poor climbers because the stems are stiff and break easily.
Bloom Time: Spring and in flushes through the summer
Size: 5-10' H 4-8' W
Hardiness: Zones 5-10
Clematis' Francizka Maria'

With flowers four to six inches across, 'Francizka Maria' puts on a lavish display for up to four weeks in summer. The dahlia'like flowers are double and develop their best color in full sun. Unlike most clematis, the flowers are produced in spring on old wood and later in the season on new wood. At 6' tall it is relatively short and can be grown on the ground as well as on a support.
Bloom Time: Summer
Size: 5-6' H
Hardiness: Zones 4-10