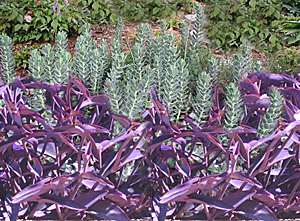 This pleasing color combination offers long season interest for a hot sunny spot. The spurge is evergreen and begins in spring with chartreuse flowers against the blue-gray foliage. Later in spring the purple heart shows the striking color of its leaves and even produces small pink flowers that are made more lovely by the surrounding hues. This blue-gray and purple combination is especially nice for rock gardens or trailing over a wall. Locate plants in full sun with well-drained soil.

Myrtle Spurge (Euphorbia myrsinites)
Also called donkey tail, this succulent perennial is native to southeastern Europe and Asia minor where it is found in grassy and rocky areas. Its trailing stems are covered with spirally arranged waxy blue-green leaves and produce flowers at their tips in spring. The chartreuse flowers are actually bracts that surround inconspicuous greenish flowers. Plants are evergreen but often look ratty during the winter in cold climates and tend to be short lived in warm climates. When broken the stems exude a milky sap that can irritate the skin. At high elevations of the intermountain West myrtle spurge can be invasive.
Bloom Time:
Size:
Hardiness:

Purple Heart (Tradescantia pallida) 'Purpurea'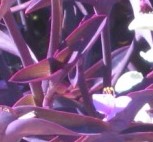 This trailing tender perennial comes from Mexico and is a work-horse plant in the garden. Its thick stems and long pointed v-shaped leaves are dark purple and develop their best color in full sun. Periodically throughout the summer pairs of small pink flowers are produced at the stem tips.
Bloom Time:
Size:
Hardiness:
Zones 10-11 but grown as annual elsewhere