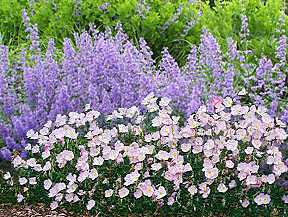 For a lovely contrast in color and texture, Nepeta 'Walkers' Low' and pink evening primrose are a great choice for a late spring to early summer border. Nepeta 'Walker's Low' produces masses of small lavender flowers on arching stems in late spring as pink evening primrose begins to pump out its profusion of flowers. The flowers of pink evening primrose are white at first and turn rosy pink as they mature. They are smooth and satiny so provide a pleasing contrast to the fine textured flowering stalks of Nepeta 'Walkers' Low'. The small gray green leaves of Nepeta 'Walker's Low' helps to blend the colors of both plants. Plant in full sun and average, well-drained soil.

Nepeta x faassenii 'Walker's Low'
Growing up to two feet tall, this herbaceous perennial tends to cascade over the front of the bed in a very appealing way. Plants can be cut back in spring to encourage bushiness and cut back by two thirds again after flowering to encourage rebloom for an extended bloom time. Nepeta 'Walker's Low may need some afternoon shade in the South.
Bloom Time: Late spring to early summer with repeat if cut back
Size: 12-24" H x 18-36" W
Hardiness: Zones 4-7

Pink Evening Primrose (Oenothera speciosa)
A native of southeastern United States, this herbaceous perennial is often found growing wild along roadsides in a a wide area of the country. The fragrant, cup-shaped flowers emerge from nodding buds and have attractive prominent veining and large yellow stamens. They open in the evening and stay open until the following morning. Plants spread by rhizomes during the dormant period and can pop up all over the garden in spring. Some gardeners consider this a problem but the plants are easily pulled out when they appear and don't return until the following spring.
Bloom Time: Late spring to early summer
Size: 8-24" H x 15" W
Hardiness: Zones 5-9