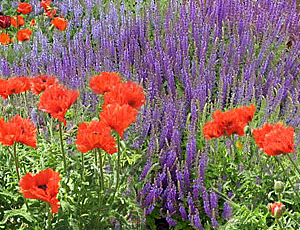 Not for the timid, this bold combination is full of intense color and is sure to grab attention in late spring to early summer when it comes into bloom. The contrast comes from not only the color but also the size and texture of the flowers . The sage flowers are small and create a fine delicate texture on upright stalks while the poppy flowers are large and globular with a papery texture. A closer look, moreover, shows that the fine texture of the sage flowers is echoed by the fringe of the poppy petals and that the upright flower spikes of the sage echo the slender stems of the poppy. Both grow well in full sun and medium moist, well-drained soil.

Oriental Poppy (Papaver orientalis) 'Turkenlouis'

Native to southwest Asia, oriental poppies are one of the showiest, flamboyant plants in the garden. The large flowers of 'Turkenlouis' are four to six inches across and have four to six orange-red petals with crepe papery texture surrounding a purple-black boss of stamens. Each petal is fringed and has a dark blotch at its base. After a short bloom period, oriental poppies go dormant, leaving a substantial hole in the gardenscape so care should be taken to locate it with plants such as baby's breath or Boltonia that will expand as they grow and fill in the space. Oriental poppies are cool weather plants and do not do well in zones 8 and warmer.
Bloom Time:
Size:
Hardiness:

Hybrid Sage (Salvia x sylvestris) 'May Night'

There are many fine hybrid sages and 'May Night' is one of the best. The deep indigo flowers are densely borne on upright spikes over compact mounds of gray-green foliage. Deadheading will prolong the bloom into summer.
Bloom Time:
late spring to early summer with repeat bloom if deadheaded
Size:
Hardiness