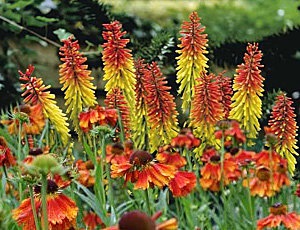 The strong thrust of the tall poker 'Royal Standard' provides a striking contrast to the daisy-like flower heads of 'Moerheim Beauty' while the colors of 'Moerheim Beauty' echo the changing colors of the flowers in the spikes of 'Royal Standard' as they go from red to yellow. These two plants are garden favorites and provide sizzle in a hot-color border over a long bloom time. 'Moerheim' will flower well into fall, extending the bloom time and adding color to the fall border. Both plants like full sun and average, moderately moist, well-drained soil.

Red Hot Poker (Kniphofia) 'Royal Standard'

Red hot poker is a native perennial of South Africa that has spawned many good hybrids and 'Royal Standard' is one of the showest. It has the bright colors of the species and stands proud and conspicuous in the garden, strutting its stuff. The small flowers are densely packed atop tall, thick, straight stems that arise from a clump of thick grassy leaves. The flowers emerge at the top of the four to six inch spikes as red buds and turn yellow as they open, creating the many colored torch that gives the plant its name. The foliage of 'Royal Standard' is better than most other pokers, but is not really an asset and can be cut back half way after flowering to keep the plant tidy.
Bloom Time:
Size:
Hardiness:

Sneezeweed (Helenium)'Moerheim Beauty'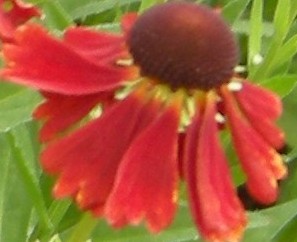 Taking its common name from the fact that the foliage of Helenium was used to make snuff, sneezeweed is a native perennial that is valued for its late bloom season. The flowerheads are exceptionally attractive with their dark centers and deep gold embellished red ray petals that turn orange as they age. The Sneezeweed plants tend to be very tall and 'Moerheim Beauty' measures in at two to four feet high. Over-fertilizing should be avoided and staking is probably desirable especially in climates with warm nights in summer. Alternatively, plants may be cut back in mid-season (July) before flowering to increase branching and produce a more floriferous bloom.
Bloom Time:
Size:
Hardiness: