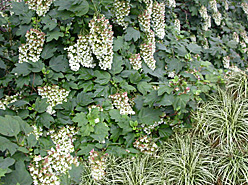 In sun or part shade this duo will provide long season interest. Fresh new leaves appear in spring followed by hydrangea's extravagant clusters of flowers. The white of these flowers is echoed by the white edges and stripes of the sedge leaves. Contrast is provided by the size of the plants and the shape and size of the leaves. As a bonus, the hydrangea has defoliating bark and  beautiful stems are revealed as the leaves drop in the late fall.  Both plants grow well in sun to partial shade and evenly moist soil.   Good drainage, however, is critical to the success of the hydrangea.

Oakleaf Hydrangea (Hydrangea quercifolia) 'Snowflake'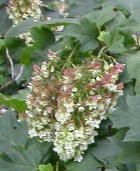 Oakleaf hydrangea is native to southeastern United States, and 'Snowflake' is one of the most beautiful cultivars. A large deciduous shrub, it produced very long panicles of double white flowers. The flowers emerge white and slowly become shades of pink as they age. The oak-like leaves are large, coarse, and handsome in spring and summer but really put on a show in the fall when they turn shades of burgundy.
Bloom Time:
Size:
Hardiness:

Variegated Broad-leaf Sedge (Carex siderosticka 'Variegata')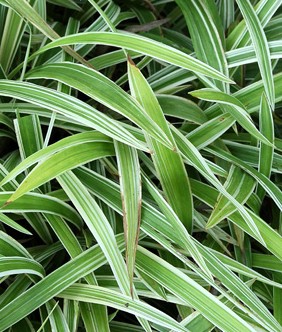 This deciduous sedge is known for its beautiful strap-shaped leaves with white edges and stripes. Small green flowers emerge in the spring before the new leaves and turn brown. The plants form handsome clumps and slowly spread by rhizomes.
Bloom Time:
Size:
Hardiness: