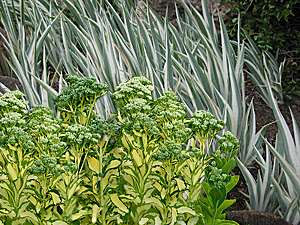 The beautiful variegated foliage of this combination makes a long season statement in the garden. Both plants have creamy white and green foliage creating an echo between the two that begins in spring and lasts until fall. Contrast is provided by the shape and texture of the leaves; stonecrop has thick rounded succulent leaves while Iris pallida has upward thrusting, sword-shaped leaves with a strong linear element emphasized by the veining. Further interest is added to the garden when Iris pallida produces its lavender flowers in early summer and later when the stonecrop produces heads of small green buds that open to pale pink flowers from August to frost. Both plants like full sun and moist, well-drained soil.

Variegated Stonecrop (Sedum alborosceum 'Mediovariegatum')

Variegated stonecrop is a clump forming perennial grown primarily for its attractive foliage but the green bud stage that appears in mid-summer is also very appealing. The star-shaped flowers are white tinged with pink and are produced in masses from late summer to frost attracting butterflies and bees throughout their long bloom time. It is easy to grow and is heat tolerant once established but may become floppy in overly fertile soil.
Bloom Time:
Size:
Hardiness:

Variegated Iris (Iris pallida 'Aureavariegata')

With flowers not as showy as their cousins, the beared irises, Iris pallida's foliage is far more attractive. With its wide strips of blue-gray and white, this iris is also known as zebra iris. The flowers are attractive but their pale lavender color helps blend into the atmosphere. By the end of summer in the heat and humidity of North Carolina the leaves tend to melt out but come back the following spring refreshed and beautiful.
Bloom Time:
Size:
Hardiness: