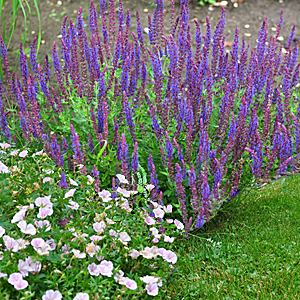 The pale pink flowers of bloody cranesbill var. striatum spread out at the feet of sage 'Lubecca' with its spikes of violet-blue flowers in spring. Interest is further provided by the contrast in form and texture of the flowers as well as the size of the plant. Sage 'Lubecca' continues to bloom into summer while bloody cranesbill var. striatum takes a siesta until fall when its foliage takes on a crimson-red color. Best growth and flowering occurs when the plants are grown in full sun with medium moist, well-drained soil.

Sage (Salvia nemorosa) 'Lubecca'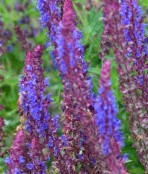 This herbaceous perennial is well branched and has a narrow, upright habit. Its small tubular flowers violet blue and have reddish purple bracts. They are densely backed on terminal spikes that rise well above the mound of foliage. Deadhead to prolong the bloom time and cut back to the basal foliage to encourage a rebloom if plants get floppy.
Bloom Time: Spring to mid-summer sometimes extending into fall
Size: 12-24" H x 12-18" W
Hardiness: Zones 4-8

Bloody Cranesbill (Geranium sanguineum var. striatum)


The deeply cut dark green leaves of this herbaceous perennial forms an attractive sprawling mound. The five petaled flowers are variable shades of light pink and are accented by crimson veins. The small stature of the plant combined with delicate color and markings of the flowers give this cranesbill a light dainty look. Foliage may decline in hot humid climates but plants can be lightly sheared back to improve their appearance.  This plant is also known as 'Lancastriense' or 'Prostratum'
Bloom Time: Late spring to early summer
Size: 6-8" H x 12-18" W
Hardiness: Zones 4-8.