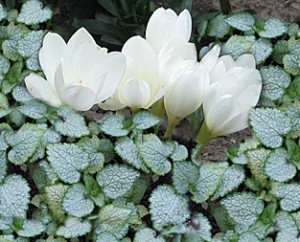 In sun or part shade, in well drained soil, this duo makes an eye catching ground cover with flowers in both spring and fall complemented by attractive foliage all summer long. The evergreen foliage of the spotted nettle enhances the flowers and hides the floppy foliage of the crocus. A nice color echo is created by the white markings of the spotted nettle leaves and the pure white of the crocus flowers. Contrast is provided by the smooth shiny petals of the crocus and the puckered leaves of the spotted nettle.

Autumn Crocus (Colchicum speciosum 'Album')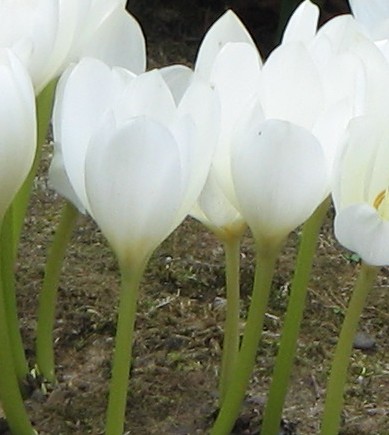 This cormous perennial takes its name from the Colchis Mountain around the Black Sea where it grows on subalpine meadows or stony hillsides. It has goblet-shaped pure white flowers borne on stout, leafless stems in mid to late fall. Strap-shaped or elliptical leaves that are produced after flowering. Corms are planted in early fall.
Bloom Time: September
Size: 6-8" H x 12-20" W
Hardiness: Zones 4-8

Spotted Nettle (Lamium maculatum 'White Nancy')


The 1-2" long evergreen leaves of the mat-forming perennial are striped or blotched with white and have a quilted appearance. Flowering begins in spring with the appearance of spikes of small hooded white flowers and last for ten weeks.
Bloom Time: Spring
Size: 6-12" H x 18" W
Hardiness: Zones 3-8