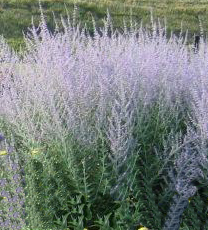 When the sun shines hot and temperatures rise in mid-summer, it seems as though the garden is full of hot colors, red, orange, and yellow. Beautiful as they are, those hot colors may profit from some plants that offer cool looking foliage or flowers. Adding blue and chartreuse may be just the trick to give a flowerbed a refreshing look that will turn the heat a notch lower on a hot summer day.
Try this threesome; 'Margarita' sweet potato, Russian sage, and black eyed Susan. This is best done with a dwarf form of Russian sage, 'Little Spire', and a dwarf form of black eyed Susan, 'Little Suzy'. They all like full sun and average soil. 'Margarita' may need extra water on especially hot days.

'Margarita' sweet potato vine (Ipomoea batatas 'Margarita')


For a fast growing vine with large chartreuse leaves you can't beat 'Margarita' sweet potato vine. It is easy to grow and very easy to propagate. Just stick a stem into water and in a few days roots will begin to form and you can plant it out in the garden. It is an annual so has to be replaced every year but it thrives in heat and goes well with both hot and cool colors.
Size:
Bloom
Foliage:
Large heart-shaped chartreuse leaves
Hardiness:
Zone 11 but grown as an annual

Russian Sage (Pervoskia atriplicifolia)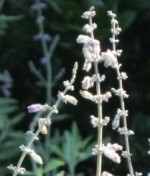 Russian sage is a tough plant that survivies in hot dry situations with ease. Its silvery blue foliage is fragrant and the flowers are tubular flowers are borne in whorls along a branched stem in loose clusters all summer long. The whole plant has a light and air appearance. 'Little Spire' has violet blue flowers and is only 24" tall.
Size:
Bloom:
Blue flowers in clusters throughout the summer
Foliage:
Silver-blue aromatic finely divided leaves
Hardiness:

Black Eyed Susan (Rudbeckia fulgida)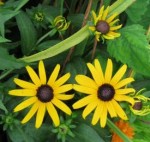 There are many different black eyed Susans. Some are annuals, others biennial or perennial. R. fulgida is a perennial that bears 2-2 1/2 " flowers with golden petals arranged around a brown disc. The most common cultivar is 'Goldsturm' a compact plant up to 30"' tall but the dwarf variety 'Viette's Little Suzy' is only 12-18" tall. Both 'Goldsturm' and 'Viette's Little Suzy' grow in full sun and partial shade, and like moist well-drained soil.
Size:
Bloom:
Golden yellow flowers with brown centers in mid-summer to fall
Foliage:
Hardiness: