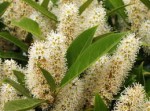 This handsome well behaved shrub is an asset to any garden especially in the winter when its shiny dark green leaves keep the garden looking attractive. In mid-spring the dense foliage forms a perfect backdrop for the white fuzzy sweet smelling flowers borne in spikes. The shrub is useful as speciman, part of a foundation planting or hedge and tolerates shade, spray and heavy pruning. Plant with smoketree, barberries, Osmanthus and variegated euonymus for a pleasing contrast in color and texture. At Christmas, the leaves add an interesting texture to arrangements of greens.
Type: Evergreen shrub.
Outstanding Feature: Dark green shiny leaves.
Form: Boxy.
Growth Rate: Rapid.
Bloom: Small white cup-shaped very fragrant flowers are borne in upright 3-6" long racemes in mid spring.
Size: 3-4' H x 6-8' W
Light: Sun to partial shade.
Soil: Rich organic, moist but well drained soil but tolerates less; ph 4.5 to 7.5.
Fertilizer: Feed with an all purpose fertilizer in early spring and again in late summer.
Hardiness: Zones 6-9.
Care: Prune after flowering by cutting individual branches (shearing results in unsightly mutilated leaves).
Pests and Diseases: Susceptible to shot-hole disease, powdery mildew and root rot.
Propagation: Semi hardwood cuttings.
Comment: The leaves point up, away from the stems, a characteristic that helps distinguish this cultivar from other varieties.