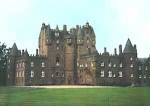 Glamis Castle, known for being the childhood home of the mother of Queen Elizabeth II and the birthplace of her sister, Princess Margaret, has been in the Strathmore family for over 600 years. The garden was first planted in the second half of the 1600s and included a walled garden but in 1760 and it was replaced by the landscaped park type of garden that was popular at the time. The garden was changed again in the 19th and 20th centuries to include the Pinetum, featuring many native American trees, the Dutch Garden, and the formal Italian garden that is the high point of a visit to the castle gardens.
The mile long drive to the castle lined by large oaks is impressive any time of year but presents a beautiful daffodil display in spring.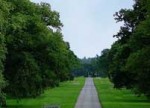 A large, old dovecote adds a quaint charm to the approach.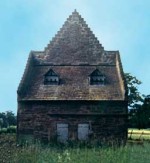 The two circular towers on the front lawn, one of which is seen here, are follies.

A spectacular 21 foot tall sundial nearby was built in 1671 as part of the formal gardens and features 84 separate sundials.

The Dutch Garden immediately outside the east wing was laid out in 1893 and consists of boxwood edged parterres filled with flowering plants. Unfortunately, this garden is not open to the public and so you have to enjoy it from afar.
The Italian garden, created in 1910 by Countess Cecilia, grandmother of Queen Elizabeth II, is surrounded by a yew hedge and has two pleached beech allees.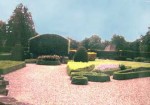 Two gazebos that date to the 17th century are on either end of a raised viewing area. From the viewing area the flowerbeds can be seen. The parterres were laid out in the shape of a fan so that the varied colored flowers in the beds looked like a rainbow.
A stone fountain adds sparkle to the display.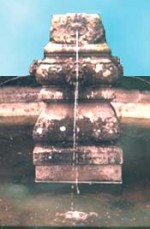 The castle grounds also includes a nature trail and pasture land in which unusual cattle can be seen as well as visiting deer. A visit to Glamis castle gardens is a wonderful way to spend a leisurely afternoon in Scotland.