This arboretum has a lot to offer; it is situated on 434 acres of beautiful National Forest and has a bonsai collection, educational facilities, 65 acres of cultivated gardens, 10 miles of hiking and biking trails, and gorgeous views of the mountains. The arboretum has been developed as an educational center and recreational area to teach the importance of plants in our world and to help people connect with nature. A visit there is interesting as well as fun.
The entrance plaza in front of the Education Center is impressive with its waterfall, cascades and large beautiful pool.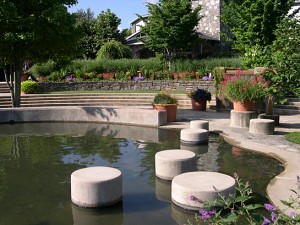 Around the pool are beds of flowers and garden ornaments.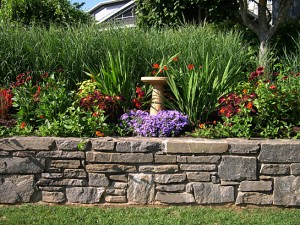 Containers around the pool area offer "teaching moments";  this one features plants that conserve water.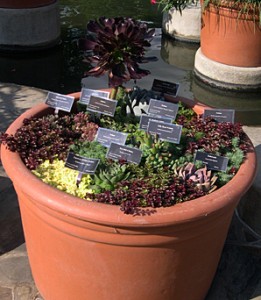 A bonsai collection with over 100 specimens is housed in its own garden.
The collection includes shrubs and trees used by Asian artists as well as tropical plants and American natives. Of special interest are the plants native to the Blue Ridge region such as eastern white pine and American hornbeam.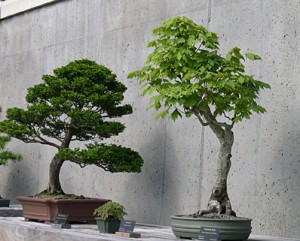 A water garden catches the eye with numerous interesting water plants.
Phragmites stands in the back of the pool.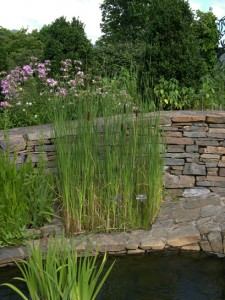 Pitcher plants are in the front of the pool so you can look at them closely.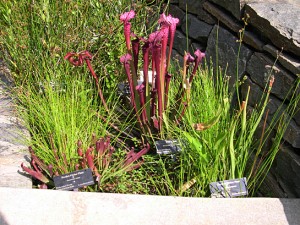 The Heritage Garden focuses on regional handcrafts and includes a garden of herbs used for making dyes.
This woven fence surrounds a tree in the Heritage Garden.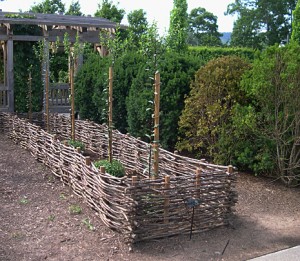 The Quilt Garden nearby was my favorite. It features plants planted in tessellated quilt patterns typical of the region. These patterns are changed seasonable and have represented quilting patterns including Log Cabin, Flower Basket, Bow Tie, Grandma's Fan, Double Wedding Ring, and Variable Star. The garden consists of 24 beds separated by slate and gravel paths. Visitors can view the garden at ground level or from an observation deck above the garden.
A natural area features native plants that are suitable for gardens in the Southern Appalachian region such as buckeye,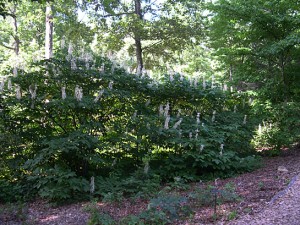 Cimicifuga…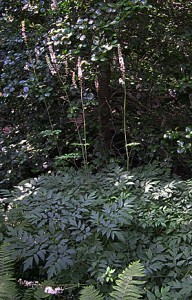 and Bennett's hemlock (Tsuga canadensis 'Bennett')
There were also some beautiful specimen trees in the arboretum like this fastigated sweetgum,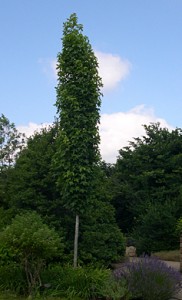 and these pleached hornbeams used in the European fashion.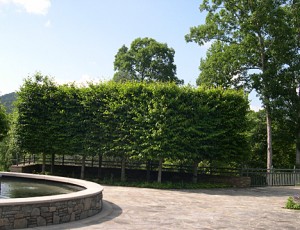 All through the garden there were large pieces of sculpture like these hands entitled "A Hedge against Extinction"
this monstrous spider,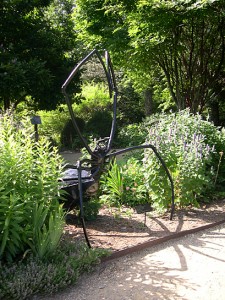 and this beautiful gate.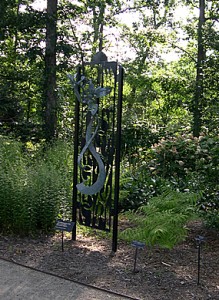 There is a lot to see at the arboretum and it is well worth a visit. Check the times carefully; we went on a day it was supposed to be open but the Bonsai collection was closed, as were some of the other attractions. The gate didn't open until considerably after the 8 A.M opening so there was no one around to collect the $6 for parking.  Go figure…