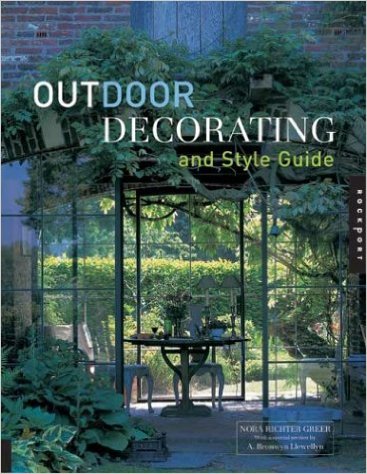 Most gardeners look forward to getting outside and enjoying the sunshine, fresh air, and the natural environment. "Outside" may mean a balcony, porch, terrace, or garden but wherever it is, it can be a retreat where you find rest and relaxation, entertain friends and family, and enjoy nature. It is an extension of house and can be considered an outdoor room that can be beautiful as well as livable. Outdoor Decoration and Style Guide by Nora Richter Greer  shows how traditional elements of design can be used to create or enhance an outdoor room and provides guidelines for integrating natural and man-made materials.
A quick overview of the ways to view and use outdoor space, leads to a consideration of basic design concepts and how they apply to the creation of an outdoor room. The book explores the use of such structures as summerhouses, gazebos, porches, conservatories, sunrooms, arbors, terraces, patios, and decks, and suggests ways to furnish an outdoor room with your needs and wants in mind. A presentation of examples reflecting many different styles shows readers they way they can achieve a certain look that satisfies their aesthetic sense. The examples include classical, romantic, exotic, eclectic mix, great escapes, and indoor/outdoor rooms. The book concludes with an examination of six houses with unique outdoor living space from a courtyard house with removable doors to a multi-level ocean front house with terraced gardens connected by bridges. No matter what you style, there is something here to inspire and get you going on an outdoor room of your own.
To buy Outdoor Decorating and Style Guide from Amazon.com click here.