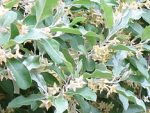 Also known as Japanese silverberry, Russian olive is a deciduous shrub or small tree growing 10-16' tall and is a member of the oleaster family, Elaeagnaceae, that also includes buffalo berry and sea buckthorns. The plant is somewhat sprawling, and has silver or brown thorns on the branches and trunk and exfoliating bark. The leathery elliptical leaves are 2-3" long and grayish green with silver scales on the underside. The pale yellow to white fragrant flowers are funnel-shape, 1/3" long, and appear in drooping clusters of 1-4 from late spring to early summer. The fleshy fruits are edible, red in the fall, and attractive to birds that spread them to distant sites. A nitrogen fixing shrub, autumn olive tolerates lean soils and is somewhat drought tolerant once established. It is native to China, Japan, and Korea but was introduced into the US from Japan in 1830 as an ornamental and was also used for erosion control and wildlife food and cover. Plants have naturalized and can be found in disturbed areas including meadows, fields, thickets, forest margins, and roadsides, and are considered invasive from Main to Michigan and Nebraska, south to Florida and Louisiana due to their rapid growth as well as their high reproductive capacity including suckering, abundant seed production, and high germination rate. The genus name, Eleagnus, comes from the Greek words elaia meaning olive tree and agno meaning pure. The specific epithet, umbellatus, comes from the Latin word umbella meaning parasol and refers to the appearance of inflorescence .
Type: Deciduous shrub or small tree
Outstanding Feature: Food and shelter for wildlife; fragrant flowers
Form: Sprawling
Growth Rate: Rapid
Bloom: Drooping clusters of 1-4 pale yellow to white fragrant funnel-shaped flowers from late spring to early summer
Size: 10-16' H x 10-16' W
Light: Sun to part shade
Soil: Average to lean, medium moist, well-drained
Hardiness: Zones 4-9
Care: Low maintenance
Pests and Diseases: None of significance but Japanese beetles and 17 year locusts may eat the leaves.
Propagation: Seed
Outstanding Selection:'Tizam' /Titan (dense, upright; 12' H x 6' W)