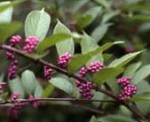 This cascading deciduous shrub is native to China, Taiwan, Japan, Korea, and Ryuku Islands and is a member of the deadnettle family, Lamiaceae,  that also includes mint, beebalm and adjuga.  It grows 4-6′ tall and wide, and has long, slender arching branches carrying  medium green,  leaves that  are 3-5″ long,  elliptical to ovate-lanceolate,  and have finely toothed margins.  In summer, cymes of small, inconspicuous pink to white flowers appear that are attractive to bees and butterflies.  In fall as the leaves turn yellow to violet, purplish or pink,  axial clusters of showy violet to purple fruits 1/6″ across appear.  The fruits may persist beyond leaf drop and are attractive to birds.  The combination of fruit and leaf coloration in the fall can be noteworthy and beautyberry is a good choice for border, hedge,  woodland areas, and  bird garden.  Stems of berries are lovely in fresh arrangements.  The genus name, Callicarpa, comes from the Greek calli- meaning beautiful, and karpos meaning fruit and refers to the beautiful berries that alo gave rise to the common name, beautyberry.  The specific epithet, japonica, refers to Japan, one of the places where the plant is native.
Type: Deciduous multistemmed shrub
Outstanding Feature: Purple berries in fall; autumn coloration
Form: Branches grow upright and then arch over forming a rounded bush
Growth Rate: Rapid
Bloom: Inconspicuous pale pink flowers produced in clusters 1-1½" wide in summer
Size: 4-6'H x 4-6'W
Light: Full sun-part sun but full sun will develop the best autumn coloration.
Soil: Average, moderately oist, well-drained; tolerates less.
Fertilizer: Fertilizer may stimulate vegetative growth at the expense of flowers and fruit.
Hardiness: Zones 5-8
Care: Prune regularly to keep it tidy; cut back to 6″ to improve berry production.
Pests and Diseases: None of importance.
Propagation: Cuttings
Comments: Useful as hedge, group or mass plantings, but the plant is not interesting until fall. Berries are produced on new growth so if the old growth dies down in the winter, take heart, new growth will appear in spring and berries will follow in time.