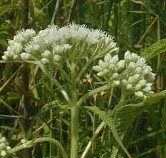 Common boneset is a native herbaceous perennial found east of the Rocky Mountains where it grows in wet or moist conditions such as swamps and stream banks. Although it can tolerate flooding it is not aquatic. Plants are clump forming and have erect hairy stems and light green wrinkled leaves up to eight inches long and two inches across. The opposite leaves lack petioles and are wrapped around the stems at their base giving rise to the notion that the leaves would be beneficial in bandages used to set bones. Small white fragrant flowers are borne in terminal, flat loose clusters two to eight inches across in late summer and early fall. Although each flower does not last long, a colony of common boneset may be in bloom for one to two months. The nectar and pollen attract many insects including bees and butterflies. Common boneset is an excellent choice for the wettest and middle zones of a rain garden but is also attractive in native plant gardens and anywhere that is constantly moist. Flowers are good in the vase as well as in dried arrangements.

Type: Herbaceous perennial
Bloom: Loose flat clusters of small, white, fragrant flowers are produced in late summer and early fall
Size: 4-6′ H x 3-4′ W
Light: Full sun to partial shade
Soil: Organically rich, wet to moist
Care: Low maintenance; cut back in early spring and fertilize will balanced formula
Hardiness: Zones 3-8
Pests and Diseases: None of significance
Propagation: Seed, cuttings, division
Companion Plants: Blue vervain (Verbena hastata), Sneezeweed (Helenium autumnale), Swamp milkweed (Asclepias incarnata), swamp goldenrod (Solidago patula).