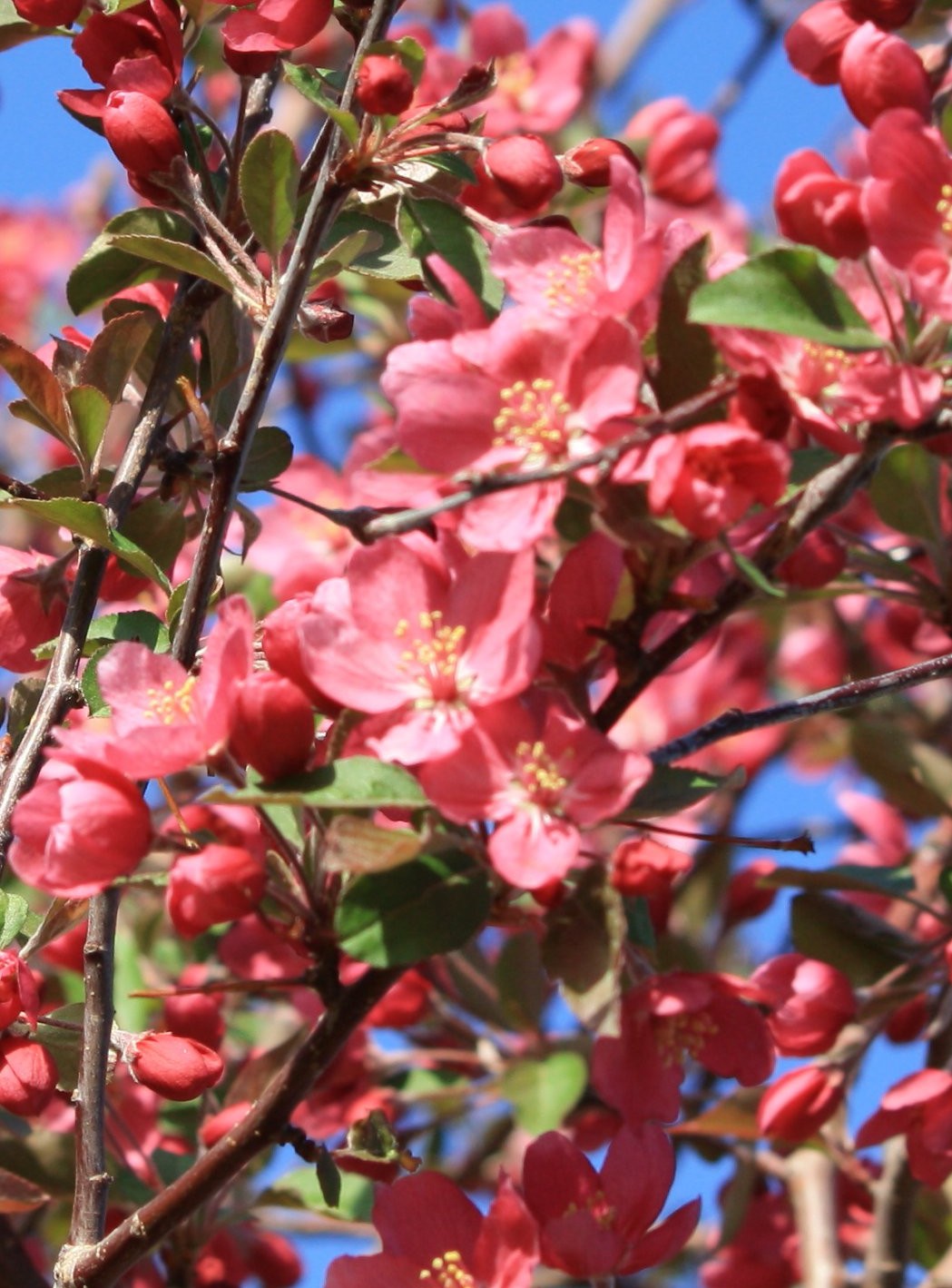 The ornamental crabapple is a beautiful spring flowering tree that brings color and delicacy to the garden when it blooms and has attractive fruits enjoyed by birds in the fall and winter. The flowers may be single or double, pure white to scarlet, and sometimes fragrant. The fruits are two inches or smaller and range in color from scarlet, to yellow, or orange. The trees are small with a rounded form and can be used as a specimen in a lawn as well as in a shrub border. As a member of the rose family, Rosaceae, it suffers from many of the problems of roses and is susceptible to cedar-apple rust, fire blight, and scab. There are disease resistant hybrids so seek them out for the best experience. When selecting trees prioritize the features you desire: disease resistance, flowers, fruits for jelly, fruits for the birds, or fruits for fall and winter interest. There are many hybrids available so shop around for the one that meets your needs and desires best.
Type: Deciduous, flowering tree
Outstanding Feature: Flowers in spring; fruits in fall through winter
Form: Upright, spreading, rounded depending on the hybrid
Growth Rate: Medium
Bloom: White to scarlet, fragrant, in spring, followed by yellow, to orange, or red apples under 2" in fall that may persist into winter.
Size: 5-25' H depending on hybrid
Light: Full sun
Soil: Fertile, loamy, moist, well-drained, pH 5.0-7.0
Hardiness: Zones 5-8
Care: Prune after flowering; plant away (500'+) from red cedar to avoid red cedar galls.
Pests and Diseases: Mildew, fireblight, scab, cedar apple rust
Propagation: Soft wood cuttings in May through July, or budding and grafting.
Outstanding Selections:
'Dolgo'
'Adams'
'Donald Wyman'
(pink buds, white flowers)
'Mary Potter'
(shrubby, pink buds, white flowers)