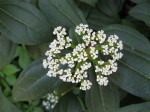 The dark green glossy leaves of this compact evergreen shrub are enough to recommend it but it also has large clusters of snow white flowers in early spring that brighten up any garden. The mounding habit and relatively small size, make it ideal for small gardens where it provides an especially handsome backdrop for later blooming annuals and perennials. In autumn female plants produces olive-shaped metallic turquoise-blue fruit about ¼" long if a male plant from a different clone is in the area. In orther words, don't count on the fruit and consider them a blessing if your plant produces the. David virburnum is useful in borders or as a ground cover.
Type: Evergreen shrub.
Outstanding Feature: Handsome evergreen foliage.
Form: Dense, compact, mound.
Growth Rate: Moderate.
Bloom: Clusters of small white flowers in early spring.
Size: 3-5' H x 3-5' W.
Light: Full sun to part shade.
Soil: Moist, well drained.
Fertilizer: All purpose fertilizer in spring aftes growth begins.
Hardiness: Zones 7b-9.
Care: Low maintenance.
Pests and Diseases: None of importance.
Propagation: Seeds sown in autumn; semi-ripe tip shoots taken in summer.
Companion Plants: Azaleas, rhododendrons, redbud, dogwoods, Kwanzan cherry, daffodils, tulips.
Comments: Cross-pollination between two different clones is necessary for fruit set.