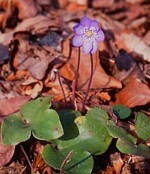 This is one of those plants that has a certain aura because of its association with the "doctrine of signatures", a belief that links the shape of a plant with the plant's use as a medicinal herb. As a history buff I find such plants irresistibly interesting but this plant has more to offer than just an archaic historical belief. It blooms very early, each flower only lasting a short time, but the colony producing flowers over a 2-3 week period. The leaves, which have persisted from the previous season, are usually reddish brown at this point and die but are followed by new green leaves in late spring. This is a good plant for a woodland, shade, or rock garden.
Type: Evergreen herbaceous perennial.
Outstanding Feature: Early blooming spring ephemeral; three lobed basal leaves resembling a human liver from which its name is derived.
Bloom: White, pastel blue, pink, or lavender flowers, up to 1" across, are borne singly on 3-4" leafless stems in early spring.
Size: 3-6" H forming colonies.
Light: Sun to full shade but prefers dappled sun in spring and light shade in the summer.
Soil: Rich organic, moist but well drained soil but will tolerate less; often associated with limestone.
Hardiness: Zones 3-8.
Care: Low maintenance. Leave leaves undisturbed during the winter.
Pests and Diseases: None of significance.
Propagation: Reseeds itself.
Varieties: Two varieties of Hepatica nobilis var. acuta exist in North America differing in the lobes of the mature leaves. H. nobilis var. acuta has pointed tips while H. nobilis var. obtuse has rounded lobes.