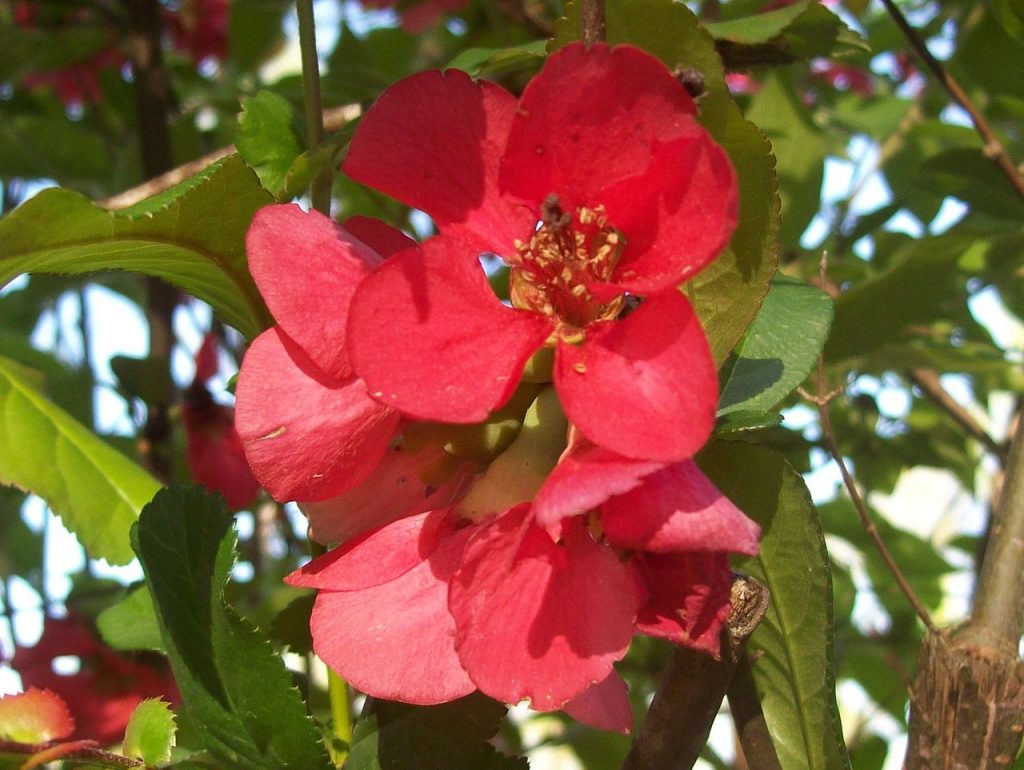 Native to Japan and South Korea, this low growing, long-lived deciduous shrub is a member of the rose family, Roseaceae, that also includes cherry, almond, and lady's mantle. It grows 2-3′ tall and has broadly oval leaves that are coarsely-toothed and up to two inches long. The orange-scarlet flowers are 1.5 inches across, have five petals and white stamens, and appear in early spring before the leaves. They are followed by hard, round, greenish yellow fruits 1.5" across that are fragrant when ripe and edible when cooked and made into jelly. The plant is vigorous, densely branched, and thorny making it an excellent choice for a hedge. The flowers are good in the vase and plants can be used for bonsai, as well as an ornamental in the garden. The genus name, Chaenomeles, comes from the Greek words,, chaimo, meaning to gape, and melon, meaning apple in the mistaken belief that the fruit split open when ripe. The specific epither, japonica, is the Latinized name for a place where the plant is native.
Type: Deciduous shrub
Outstanding Feature: Early flowers, edible fruits that can be made into jelly
Form: Rounded mound
Growth Rate: Moderate
Bloom: Orange-scarlet with five petals and white stamens in early spring before the leaves appear
Size: 2- 3' H x 3-6' W
Light: Full sun to part shade
Soil: Average, medium moist, well-drained
Hardiness: Zones 5-8
Care: Trim or prune lightly immediately after flowering as flowering occurs on old growth; remove root suckers to control spread.
Pests and Diseases: Susceptible to fireblight, leafspot, scab, aphids, scale
Propagation: Seed, layering, cuttings
Photo Credit: Hoodedwarbler12 Wikimedia Commons