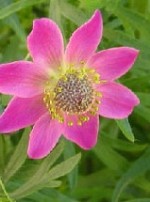 Lesser's anemone , also called rose windflower, is a herbaceous perennial hybrid produced from a cross between Anemone multifida and A. sylvestris. It is a member of the buttercup family, Ranunculaceae, that also includes hellebores, columbines, and delphinium. The fern-like basal leaves are glossy, five inches wide, palmately divided into three to five segments, and somewhat hairy along the midrib and veins. The flowers appear in the early summer and are 1 1/2 to 2 inches across. They are carried singly or in umbels of two to three on erect stalks and have five to nine colorful petal-like sepals that may yellow, white, red, rose, or purple, although deep rose and red are most common. The plants are heat tolerant and do well in the South but need afternoon shade in all USDA growing zones. A good choice for the front of the border, an open woodland planting, or a rockery. Plants sometimes rebloom in the fall but are short lived. The generic name Anemone may come from the Greek word anemos meaning wind but may be a corruption of a Greek loan word of Semitic origin referring to the lament for slain Adonis, whose blood produced the red Adonis(Anemone coronaria).
Type: Herbaceous perennial
Bloom: Flowers with five to nine colorful petal-like red rose sepals that may also be yellow, white, red, or purple appear singly or in umbels of two to three, in early summer
Size: 15-18" H x 12" W
Light: Part shade; needs afternoon shade.
Soil: Average, moist, well-drained
Hardiness: Zones 5-8
Care: Low maintenance
Pests and Diseases: None of significance but slugs and snails may damage foliage.
Propagation: Division, root cuttings
Companion Plants: Ferns, hosta, bell flowers (Campanula spp)