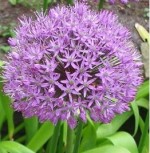 Persian onion is a bulbous perennial native to central Asia. It is a member of the amaryllis family (Amaryllidaceae) that also includes agapanthus, daffodils, and snow drops. The fleshy, strap-shaped leaves are greenish gray and produced in a basal rosette. They are 1 to 1 ½' long, up to 4 inches wide and disappear soon after the flowers appear. The small lilac flowers are star shaped and produced in spring or early summer in an umbel four inches across carried on a naked scape 2-3 feet tall. The leaves and stem give off the odor of onions when bruised. Plants are attractive planted in groups in the middle of the border and are good cut flowers. They are rabbit and deer resistant. The generic name, allium, is the Latin name for garlic.
Type: Bulbous perennial
Bloom: Small, lilac flowers in umbels four inches across in late spring to early summer
Size: 2-3' H x 2' W
Light: Full sun
Soil: Average to fertile, medium moist, well-drained
Hardiness: Zones 4-8
Care: Plant bulbs in the fall at a depth of about three times the bulb diameter.
Pests and Diseases: None of significance although bulb rot can be a problem in heavy soil.
Propagation: Seed with cold treatment; division
Companion plants: Cranesbill (Geranium spp.), bee balms (Monarda spp), hardy Jerusalem sage (Phlomis russeliana), Yarrows (Achillea spp), ornamental grasses
Outstanding Selection: 'Purple Sensation' (darker purple flowers than species)