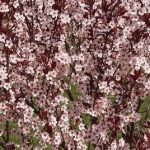 Purple leaf sand cherry is a deciduous medium sized shrub or small tree and a member of the rose family, Rosaceae, that also includes almond, pyracantha, and ladies mantle.  It is a hybrid from purple leaf plum (P. cerasifera) and sand cherry (Prunus pumila).  Plants grow 7-10′ tall and have an oval shape when young before arching and opening up in the center with maturity unless pruned.  The oval leaves are up to 2″ long and have a purplish-red color in spring, turning bronze-green in the fall. In spring solitary light pink to white flowers appear  that are 1/2″ across and fragrant.  By late summer the flowers give way  to 3/4″ purplish fruits that are attractive to birds.  The leaves of purple leaf sand cherry adds color all season long, the flowers provide an outstanding olfactory experience in spring, and the berries can be used for making jam or  appreciated for attracting wildlife.  Like other members of the rose family, purple leaf sand cherry is susceptible to many pests and diseases and has a short life span of 10-15 years. The genus name, Prunus, comes from the Greek word  προύνη meaning plum, a prominent member of this genus..  The specific epithet, cistena, is the Sioux word for baby and refers to the plants dwarf size.
Type: Deciduous flowering shrub or small tree
Outstanding Features: Purple foliage, fragrant flowers
Form: Oval when young, arching and open in maturity
Growth Rate: Moderate to fast
Bloom: Fragrant light pink to white flowers in spring.
Size: 7-10′ H x 5-8′ W
Light: Full sun for best foliage color
Soil: Organically rich, consistently moist, well-drained
Hardiness: Zones 2-8
Care: Prune to keep plant compact and bushy
Pests and Diseases: Borers, cankers, scale, Japanese beetles, aphids, spider mites, leafhoppers, catterpillars, leaf spot, leaf curl, powdery mildew, fireblight, honey fungus, root rot, die back
Propagation: Stem cuttings