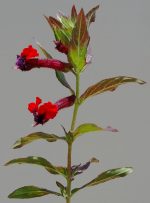 Also known as bat cuphea, this tender evergreen sub-shrub is  native to Mexico but is grown as an annual or houseplant in areas with hard frost.   It is a member of the loosestrife family, Lytharaceae, that also includes crepe myrtle, pomegranate and henna.  Plants grow 1.5-2.5′ tall and have a rounded bushy habit. The stems  are crowded with oval, pointed dark green  leaves that are thick, hairy, and up to 3″ long.  From late spring to early summer,  clusters of 1″ long tubular flowers appear in the leaf axils.  Each flower consists of a hairy purple calyx with 2 upward facing red petals that resemble ears so that the over all appearance of the flower looks like the face of a bat. Four other petals are reduced in the species but fully developed in some cultivars. The flowers are attractive to butterflies, bees and hummingbirds and are a good choice for  butterfly and wildlife gardens as well as for borders, containers, baskets, and houseplants. Plants moved indoors as house plants in the fall do well in a well lighted area with cool temperatures (60s) and reduced watering. The genus name, Cuphea, comes from the Greek word kyphos meaning curved and refers to the curved seed capsule.  The origin of the specific epithet, llava, is unknown.
Type: Flowering evergreen sub-shurb
Outstanding Feature: Flowers
Form: Rounded
Growth Rate: Rapid
Bloom: Clusters of 1″ long flowers with purple caylx with 2 small upward facing red petals that resemble ears, from late spring to frost
Size: 1.5-2.5'H x 2-2.5′ W
Light:Full sun; tolerates some shade
Soil: Average, moderately moist, well-drained; some what drought tolerant when established.
Hardiness: Zones 9-12
Care: Pinch in mid summer to encourage bushiness
Pests and Diseases: None of significance
Propagation:Seed  pressed into the soil rather than covered because light is necessary for germination, softwood cuttings in spring, division of large plants
Outstanding Selections:
'Diablo' (bright red flowers, tall plants)
Flamenco Samba (hybrids with ruffled, dark red, fushic, or hot pink petals on 10″ tall sprawling plants)
The Srirache series ((large papery petals in rose, violet, or pink)
'Tiny Mice' (2 small red-orange petals; 12″ tall)
'Torpedo' (flowers 1.5″ long)
'Totally Tempted' (hybrid with bright red petals)
Photo Credit: Wikipedia