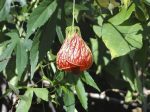 Redvein abutilon is a tender evergreen shrub native to southern Brazil, Argentina, Paraguay and Uruguay but has naturalized in Central American and is a popular ornamental in subtropical areas.    It is a member of the mallow family, Malvaceae, that also includes hollyhock, hibiscus, cotton, and okra. Plants grow 3-16′ tall and have 6″ long leaves with 3-5 lobes. From spring to summer 1.6″ long bell-shaped pendant  flowers appear that have 5 yellow to orange-red petals with prominent red veining and are attractive to bees and hummingbirds. Plants can be grown in containers and can be overwintered in the house. The genus name, Abutilon, is the Arabic word for a mallow-like plant. The specific epithet, pictum, is the Latin word meaning painted and refers to the flowers.
Type: Tender perennial shrub
Outstanding Feature:Flowers, foliage
Growth Rate: Moderate
Bloom:Pendent, bell-shaped flowers 1.6″ long with yellow to orange red petals with prominent red veining from spring through summer
Size: 3-16′ H up to 6′ W
Light:Full sun to partial shade
Soil:Fertile, medium moist, well-drained
Hardiness: Zones 9-10
Care: Repot twice a year when plants are young but allow to become potbound when older; Prune 25-40% just before growth begins.
Pests and Diseases:Spider mites, mosaic virus (responsible for mottled and variegated leaves)
Propagation:Seed, cuttings
Outstanding Selections:
'Aureo-maculatum' aka 'Mardi Gras' (velvety 5-lobed leaves with hairy undersides, toothed margins, and yellow markings;flowers  coral with dark veining; not as floriferous as the hybrids)
'Gold Dust' (light green leaves with dark gold mottling; flowers orange)
'Thompsonii' ( leaves with 5-7 lobes and mottled with soft yellow; flowers salmon-orange)
Photo Credit: Wikipedia
5 m (16ft) by 2 m (6ft) at a medium rate.
to southern Brazil, Argentina, Paraguay and Uruguay. The plant has become naturalised in Central America,  ?????
Color: Yellow to orange-red
Bloom Time: April to September
Description
Abutilon pictum is an evergreen shrub, up to 16 feet (5 m) tall and up to 6 feet (1.8 m) wide. The leaves are 3- to 5-lobed and up to 6 inches (15 cm) long. The flowers are yellow to orange-red, bell shaped, with prominent dark red veining, and five petals, up to 1.6 inches (4 cm) long. It blooms from April to September.
Abutilon pictum is a shrub growing to 5 metres (16 ft) tall by 2 metres (6.6 ft) wide.[4] The leaves are 5–15 cm long, three- to five- (rarely seven-) lobed.
The yellow to orange-red bell shaped flowers have prominent dark red veining, with five petals 2–4 cm long. It blooms from April to September, and longer in warmer subtropical areas. The flowers attract pollinators, such as native bees and hummingbirds.[4]
The Latin specific epithet pictum means "painted".[5]
Culinary
[
edit
]
The flowers are edible, raw or cooked, with the sweet flavor increasing the longer the bloom is open.[4]
Cultivation
[
edit
]
Abutilon pictum is cultivated as a popular ornamental plant, for use in gardens in subtropical climates. They are also planted in containers or pots, on patios and balconies outdoors, or as winter house plants.[4]
The plant can grow in light shade or full sun, and is frost tender. It requires moist soil, growing suitably in fertile sandy, loamy, or well-drained clay soils.[4][6]
Cultivars
[
edit
]
Note: both Abutilon pictum and Abutilon striatum are susceptible to Abutilon mosaic virus – while A. pictum simply gets crinkly leaves, A. striatium develops a mottled or variegated leaf that is prized, and often sold as a different variety, notably "Gold dust" in Hawaii.[7]
'Mardi Gras' — Mardi Gras abutilion (syn: Abutilon pictum 'Aureomaculatum'); very vigorous form to 10 ft. by 10 ft. but can be kept smaller/espaliered, has large green leaves splashed boldly with gold, narrow light orange flowers.[8]
'Thompsonii' — variegated Thompson's abutilion (syn: Abutilon striatum 'Thompsonii'); speckled yellow and green variegated leaves, orange flowers:[9] this cultivar has gained the Royal Horticultural Society's Award of Garden Merit.
Abutilon pictum — syn. Abutilon striatum,(disputed)[1] and commonly known as redvein abutilon, red vein Indian mallow, redvein flowering maple, Chinese-lantern[2] or red vein Chinese lanterns, is a species of Abutilon in the family Malvaceae.[3] It is native to southern Brazil, Argentina, Paraguay and Uruguay. The plant has become naturalised in Central America, and common in horticulture.
Abutilon pictum perennial evergreen or annual plant with edible flowers but mostly used as ornamental plant, can grow in subtropical, mediterranean, temperate, tropic climate or as houseplant and growing in hardiness zone 9+ as perennial 6-9 as annual  Zones 8-10
Leaves color green with yellow dots or marks in hand shape deeply lobed
Abutilon pictum flower
Flower edible and color can be: orange, red, yellow or more than one color, with veins in other colors, shape in bowl and in the inner part round stamens, the flowers hang like bells.
are sometimes affected by spider mites, and they are known for leggy growth. To encourage bushy growth, prune the plant by 25 percent to 40 percent in the late winter, right when new growth is about to start. Also, throughout the summer, occasionally pinch off new growth to encourage healthy growth. When pruning, make sure to stagger your cuts and remove some large branches to open the plant's canopy. As a final note, these plants dislike acidic soil, so it is not necessary to add additional lime to your potting mix. Instead, stick with the basic peat-based potting soil and make sure to refresh it as the mixture decomposes and becomes more acidic over time.
Abutilon is a relatively fast-growing plant, especially when they're young. Consequently, younger plants might need to be repotted twice a year, once at the beginning of the growing season and once in the middle. Older plants, however, benefit from being slightly pot-bound, so should be repotted either every other year or yearly into only slightly larger pot
Seed – germination should take place within a few weeks. Once the seedlings are large enough to handle, prick them out into individual pots and grow them on until large enough to plant out.
Cuttings of young shoots[
].
Cuttings of half-ripe wood
Alternative names: Red vein abutilon, Red vein Indian mallow, Redvein flowering maple, Chinese-lantern, Red vein Chinese lanterns