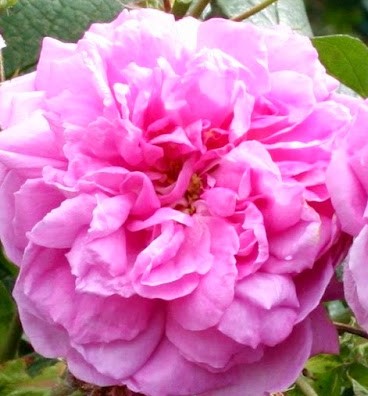 With fragrant mid-pink flowers this Damask rose is one of the favorite old garden roses of many distinguished rose growers. Clusters of up to fifteen large double roses are produced over a six week bloom period in spring or early summer and are good for arrangements. The petals in the center of the flowers in the center of the flower arranged around a button are a slightly darker pink than the others petals. The plants are semi-evergreen, vigorous, disease resistant, and tolerates some shade and poor spoil. The origins of the rose are obscure but it was probably bred before 1812 in Persia. It was introduced to England by Norah Lindsay and is named after the Iranian city, Isfahan.
Type: Damask
Origin: c 1812
Parentage: Unknown
Flower Size: 2.5-3.5" across
Petal Count: Double (17-25)
Scent: Strong and sweet
Flowering: Once in spring or summer but has long bloom time.
Plant Size: 4-8 ' H x 2-5' W
Hardiness: Zones 5-9
ARS Rating: 8.7