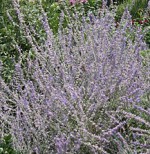 When the tall, powder blue spikes of Pervoskia come into my garden I know that the garden is complete. This beautiful back of the border plant is a must for my formal garden and was one of the first that I bought when I moved to a new site. They are vigorous, tough, and very low maintenance as long as you give them well drained soil. Their grayish stems and leaves are a terrific background for most other flowers so they more than earn their keep all season. It was named as the 1995 Perennial Plant of the Year by the Perennial Plant Association and they weren't kidding!
Type: Semi-woody perennial.
Bloom: Small, purple-blue tubular flowers are arranged in whorls along the stems. They appear in July and continue for up to 15 weeks. Color also comes from the gray stems and gray-green leaves.
Size: 3-4'H x 2-3'W.
Light: Full sun.
Soil: Average, well drained soil. Once established Russian sage is drought tolerant.
Fertilizer: In early fall, apply ½ cup of 5-10-10.
Hardiness: Zones 4-9.
Care: Cut back to 12" or to the lowest leaves in spring to encourage new, compact growth and prevent the plant from becoming too woody.
Pests and Diseases: None of importance.
Propagation: Crowns can be divided in fall. Cutting can be taken in late summer to early fall after flowering is completed. Plants may also be multiplied by layering; bend a floppy branch down to the ground and cover a portion of it with soil.
Companion plants: Red or pink beebalm (Monarda spp.), daylilies, roses, boltonia (Boltonia asteroids), 'Autumn Joy' sedum, ornamental grasses, white garden phlox (Phlox paniculata) like 'David', hollyhock, and cosmos.
Outstanding Selections: 'Blue Spire'; 'Little Spire' is only 2' tall.