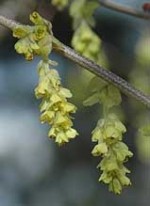 Native to Japan, this flowering deciduous shrub is in the witch hazel family, Hamamelidaceae, that also includes fothergill and loropetalum. The unusual fragrant flowers that appear in late winter to early spring are the outstanding feature of the versatile plant. The bell-shaped lemon-yellow flowers have red to purple anthers and are borne in dangling clusters about 2 inches long on leafless branches, resembling the flower clusters of the shrimp plant. Each cluster consists of 6- 12 flowers and each shrub has an abundance of clusters making the tree quite showy during bloom time. The oval, heavily veined leaves that follow the flowers emerge dark purple, mature to deep blue-green, and are 3-6″ long. This is a fine shrub for a border and is especially nice when planted so that the spicy sweet fragrance of the flowers can be enjoyed at bloom time. It is a good choice for woodland, fragrance, and winter gardens. As a bonus, the branches are beautiful in winter bouquets and the plants make excellent bonsai subjects. The genus name, Corylopsis, is derived from the Greek words korylos which means hazel and opsis which means like or resemblance and refers to the fact that the leaves are similar to those of hazel plants. The specific epithet, spicata, is the Latin word meaning spiked and refers to the inflorescence.
Type: Flowering deciduous shrub.
Outstanding Feature: Yellow flowers in late winter to early spring.
Form: Vase; open bushy.
Growth Rate: Slow.
Bloom: Fragrant lemon yellow flowers borne in 1-2" dropping clusters in late winter to early spring.
Size: 6-8' H x 6-8' W
Light: Sun to light shade with protection from midday sun.
Soil: Organically consistently moist, well-drained, acidic; tolerates less but not heavy clay soils.
Fertilizer: If needed use a fertilizer for acid loving plants in early spring.
Hardiness: Zones 5-8.
Care: Low maintenance; pruning is rarely needed but can be done after flowering to shape or control growth. (Prune during flowering and enjoy the branches indoors.)
Pests and Diseases: None of importance.
Propagation: Sow seed outside in autumn; ground layer in autumn or air-layer in spring; greenwood cuttings in summer.
Companion Plants: Winter heather, Lenten rose (Helleborus orientalis), early spring bulbs such as crocus, glory of the snow, snowdrops.
Comments: Needs protection from winter winds.
Photo Credit Wikipedia