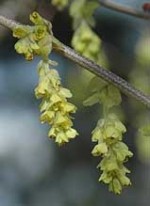 The unusual fragrant flowers that appear in late winter to early spring are the outstanding feature of the versatile plant. The bell-shaped lemon-yellow flowers have red to purple anthers and are borne in dangling clusters about 2 inches long on leafless branches, resembling the flower clusters of the shrimp plant. Each cluster consists of 6- 12 flowers and each shrub has an abundance of clusters making the tree quite showy during bloom time. The oval leaves that follow the flowers are pale-green with blue-green pubescent undersides and are deeply pleated. This is a fine shrub for a woodland or border and is especially nice when planted so that the spicy sweet fragrance of the flowers can be enjoyed at bloom time. As a bonus, the branches are beautiful in winter bouquets and the plants make bonsai subjects that are to die for!
Type: Flowering deciduous shrub.
Outstanding Feature: Yellow flowers in late winter to early spring.
Form: Vase; open bushy.
Growth Rate: Slow.
Bloom: Fragrant lemon yellow flowers borne in 1-2" dropping clusters in late winter to early spring.
Size: 6-8' H x 6-8' W
Light: Sun to light shade with protection from midday sun.
Soil: Organically rich, acid, moist, well drained; tolerates less but not heavy clay soils.
Fertilizer: If needed use a fertilizer for acid loving plants in early spring.
Hardiness: Zones 6-8.
Care: Low maintenance; pruning is rarely needed but can be done after flowering to shape or control growth. (Prune during flowering and enjoy the branches indoors.)
Pests and Diseases: None of importance.
Propagation: Sow seed outside in autumn; ground layer in autumn or air-layer in spring; greenwood cuttings in summer.
Companion Plants: Winter heather, Lenten rose (Helleborus orientalis), early spring bulbs such as crocus, glory of the snow, snowdrops.
Comments: Needs protection from winter winds.