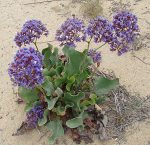 Also known as sea lavender, sea pink, and notch leaf marsh rosemary, this tender short-lived perennial is often grown as an annual, and is a member of the leadwort family, Plumbginaceae, that also includes thrift. It is native to the Mediterranean and can be found in southern Spain, North Africa, Canary Islands, and Israel where it grows in sandy soil. Plants grow up to 18-28″ tall from a rosette of lanceolate leaves that are up to 4-6″ long, have wavy margins and are pinnately lobed. The summer blooming tubular flowers appear in terminal panicles of clustered spikelets on nearly leafless winged stems and have a small white corolla surrounded by a papery showy caylx that is violet-blue in the species. Cultivars are available that have lavender, purple, pink, rose, orange, yellow or white calyces. Flowers are good in the border, and both dried and fresh in the vase. The genus name Limonium, comes from the Greek word leimon meaning a meadow, referring to the common habitat of the plant. The specific epithet, sinuatum is the Latin word for bent or curved and refers to the wavy margins of the leaves.
Type: Tender short-lived perennial
Bloom:Terminal panicles of clustered spikelets with white corolla surrounded by a papery showy violet blue, lavender, purple, pink, rose, orange, yellow or white calyces in summer
Size:1-1.5′ H x .75-1′ W
Light:Full sun
Soil:medium most to dry, well-drained; drought tolerant
Hardiness: Zones 8-10
Care:Low maintenance; deadheading not needed.
Pests and Diseases:Crown rot and root rot are potential problems especially when grown in overly moist soil or where air circulation is poor.
Propagation:Seed; plant indoors early and transplant into the garden after the first frost because plants need a long growing season to flower.
Companion Plants: Rudbeckia hirta, Heliotropium arborescens, Amaranthus cruentus, Pennisetum villosum
Photo Credit: Wikipedia